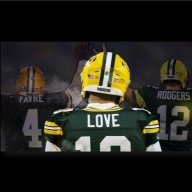 Joined

May 2, 2012
Messages

10,988
Reaction score

3,110
So I'll toot my Doubs horn as long as it appears he is the steal many feel he is...with that who are three guys I feel are my circled guys that could be the Day 3 "Doubs" like steals?

Pick #1
Let's kick this off with A.T. Perry from Wake Forest. I have avoided Perry after being burned by a WF prospect in recent years who was anything but what I thought he was. However, with some Shrine bowl tapes coming in Perry caught my eye and I began to unpack some of his film. He truly plays like he is a power forward on a basketball court catching full court passes - his body control is immaculate, his wingspan is enormous and you get in the red zone this young man can be a weapon in his ability to go up literally outside the reach of likely ANY person in coverage. So why might he be there in Day 3....well three reasons IMO (two of which are very similar to Doubs)...lower level play success (can it translate), his release package isn't refined and he does have some drops to his name. Either way folks a 6'5' WR that has already in the past ran sub 4.5 don't grow on any tree which exists....a prototypical X receiver would free up Watson to be our moving chess piece more than a slot type guy would (argument for that for sure as we don't have a pure slot)...but if when Day 3 kicks off and Perry is still out there - look for Perry's name to be called.

Perry last two years stats: 2389 yards / 152 receptions / 26 TDs / 15.7 YPC
Notable 2022 performances... 10 reception / 119 yards / 3 TDs against solid defensive backfield of Syracuse...also put up 91 yards on 8 receptions and a TD against FSU.

Pick #2
Another prospect I'll share is one which is even more borderline Day 2 than Perry....he has one issue holding him back - where he played and who he played against. Andrei Iosivas picked up and moved even to North Dakota State like Christian Watson would be a second round prospect right now without hesitation...BUT because he is from Princeton everyone wants to know just what he might be. Let me put this way, this ELITE track star (he runs the 60m in 6.7 seconds folks...tracked one play at 22.2mph this year too) if his speed translates should run faster than Watson, may very well be stronger than Watson (benches 370lbs) and doesn't have the drop issues Watson had in college. Now I'm not saying we could have a Watson 2.0, but I'm telling you this dude has uncoachable traits you cannot begin to capture properly. He got an invite to the Senior Bowl and I fear if he shows out it is going to take a team's 3rd rounder or better to get him if he shows out....Watson's success in the NFL showcases how an OOBER athletic prospect from a small school can for sure deliver. Iosivas would give us a clone WR type to Watson....imagine lining up those two with Doubs or a brought in veteran....talk about some fun play design options. His and Watson numbers beside compared:

Item: Watson / Iosivas
Height: 6041 / 6040
Weight: 208 / 205
Vertical: 38.5 / 39
Forty: 4.36 / 4.29

Last two seasons: 1646 yards / 107 receptions / 12 TDs / 15.4 YPC
Most notable games...gonna be honest ZERO clue on Ivy League schools...he did put up 155 yards on 10 catches and 2 TDs against Cornell (if that means anything).

Pick #3
I thought about digging real deep but we will stay with higher Day 3 prospects for this discussion and end the post with Trey Palmer from Nebraska by way of LSU. He was a special team weapon at LSU but caught in a log jam of talented WRs and bet on himself before the 2022 season and transferred to Nebraska...an ODD move to a less than stellar program and many figured he was headed towards obscurity after this last season. BUT this speed demon walked into Nebraska and thrived. Putting up a record setting 1,043 yards on the season and declaring for the draft. I mentioned his speed... he ran the 100m dash in high school in freaking 10.42s. Look for him to run fast, but what I love most about him is his nastiness and edge to him - he embraces physical play and I expect if he blocks like he handles press corners this kid will have some highlight blocks (and some flags potentially LOL). The bonus with Palmer is this dude is a pure and experienced returner - so even if his raw skills and nature at WR don't blossom out the gate he could hold a 53 spot on ST and as a returner.

He's 6'1' 190lbs.

This last year at Nebraska: 1,043 yards / 71 receptions / 9 TDs / 14.69 YPC
Most notable game: Iowa on 11/25 - cat produced 165 yards on 9 receptions and scored twice.