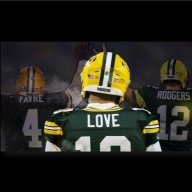 Joined

May 2, 2012
Messages

11,108
Reaction score

3,173
With so much uncertainty as to exactly what picks we will enter the April draft with - hinging on the Rodgers decision, do we attempt a tag and trade of Davante....all of it one thing I am 99.99% sure of - Gute/GB will be part of multiple trades involving draft picks I predict, and minimum of one if not multiple will occur on draft day.

Never before are we faced with vastly polarizing positions of either extreme entering the draft.

Scenario #1 - We are pushing ALL (arguably more than we should) our chips and financial future for a 2022, maybe also 2023, window of time for a Super Bowl. That means we cannot miss with our draft picks, which means trusting our scouting department and going and getting "sure" or "most sure" prospects at crucial holes which form roster wise between now and all the cuts/releases/restructures set to happen. Which as we all know with each pick, the certainty and level of expectations diminish. I expect Gute to come out swinging - even possibly utilizing next year capital to do so. Personally, say Davante isn't tagged and signs elsewhere and Rodgers is still here in GB. There is a real good chance we still make playoffs and draft in the last ten spots of the 2023 draft....likewise there is a REAL good chance Davante sets the UFA contracts and gives us a 3rd round comp pick, almost a guarantee - I'm instantly thinking of moving a 3rd rounder next year in a 2022 trade package if I see a 2022 contributor I want still on the board say in the 2nd round or even in a package deal to get two first rounders (less likely in this scenario where no trades pre-draft happen to give us more equity). One such position I think you see Gute swing big time at is EDGE/OLB. Yes I think the team loves what Garvin and Rivers have shown and expect growth to continue but should we see Preston also a cap cut casualty along with Z - this is the draft to go get a day 1 contributor that can play opposite Rashan. Likewise there is solid WR depth in the first 50 picks or so expected to be there, which if Davante is gone and even if MVS is retained (doubtful money wise) you gotta get a day 1 starter in the draft.

Scenario #2 - Is obvious...Rodgers is traded and with that Gute has IMMENSE draft equity most likely spanning this and next year to play with. I think in this case you are likely to see multiple trades..perhaps a back and then forward like GB has done in the past (Jaire) or multiple upward moves by Gute to nab three or four players before even the 75th pick is called.

It sucks being in this whole "unknown" state as a GB fan...but this is IMO going to be a very fun and exciting draft year for GB I think.