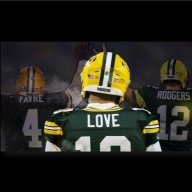 Joined

May 2, 2012
Messages

10,973
Reaction score

3,102
It's been about a month since last actual shared mock...and my prospect thoughts are really starting to crystalize...and this mock will introduce you guys to a couple new prospects I really am intrigued by. ALSO to me this is the epitome of a Gute-esq approach to the draft Day 1 and the risk of trading back pays off...but more on that below:
#15 TRADED TO KANSAS CITY
The Chiefs have quite a few picks this year - and their failed experiment at RB with CEH leaves them eyeing Bijan hard....and with this trade the offensive firepower of KC gets even stronger. Such a KC move honestly.
KC sends us #30, #94 and 1st Rounder in 2024
GB Sends the #15
GUTE SWINGS BACK
In a Gute-esq fashion he watches Mayer make it past a few teams, but cannot risk him going further and we move up:
GB sends Bengals #30, #94 and a 2024 5th Rounder
Bengals send GB the #26
#26 - Michael Mayer TE Notre Dame
I've said enough about this guy. Immediate Day 1 starter and weapon for Love (or Rodgers...)
#45 - Lukas Van Ness EDGE Iowa
Just like Gary when we drafted him "TOO EARLY" many are going to scream the same thing at this one. I shared about Van Ness
HERE
but in short this DUDE is YOUNG (Gute loves), will do VERY WELL in RAS score, and has shown immense raw upside that is incredible. 2021 played mainly down and inside and produce tons of pressure not even as a starter...2022 they stood him up and would reduce him down some...not as a every game starter and this dude still produced pressures, sacks and hurries against some VERY good OL. We have both a present limited snap help his rookie year...but like Gary in two/three years when his potential is closer to being obtained WATCH OUT.
#78 - Julius Brents CB/S Kansas State
I've shared about him recently
HERE
- but this dude has RANGE for days, LENGTH for weeks and I envision us playing him both as a CB and Douglas at Safety or I could see him playing Safety for us out the gate. I think Brents is going to test and prove himself to be everything many are seeing on film and that is a EXCELLENT DB that I believe can thrive in any DB position and in any scheme.
#113 Andrei Losivas WR Princeton 6'3' 200lbs
Ready for a Gute type guy due to his youth and his expected HIGH RAS score to sneak his way up boards consistently through the pre-draft process?? Now don't overreact to this but this is my Christian Watson of 2023...NO he is NOT as polished as Watson was...when Watson headed to the senior bowl and combine he was looking to prove he wasn't just a potential Day 2 special WR from a small school but a guy that could play with higher competition and shouldn't fall past the 40th pick or so and even push into Day 1 talk. Andrei right now sits at a Day 3 pick for many...but if he hangs with the higher level DBs at the Senior Bowl...runs a sub 4.3 which he is fully expected to do...illustrates some route running chops or promise minimum...I think come the Draft he will have elevated himself to flirting with Day 2 level. (yes...this guy could take stab at the 40 time record)
#146 Mike Morris DE/iDL Michigan 6'6' 291lbs
Reed and Lowry are most likely out...and Morris sitting there is possible and embraced for sure here. A raw power guy that strength being a calling card can move the blockers back while keeping eyes up and at times shedding at a very high level. He's comfortable standing or down and inside. I envision him offering us a hybrid type body and weapon for our DC to mess with. With Van Ness on EDGE added and Slaton and Wyatt progressing his rookie year could be the year we find where his strength lies. He's just too much of a good one to watch go by us.
5th Comp Estimated Pick (unknown number at this time) - Deuce Vaughn RB Kansas State 5'6' 176lbs
Yes, we do it...we draft a UNIQUE - ATYPICAL guy that in many ways doesn't fit a Gute style pick but he also has been crazy productive...and there is always that one non-Gute type pick it seems each draft. IF we keep Jones (restructure contract) I will be honest a 5th round flyer on a guy that is unlike anything we have in the backfield...that can ABSOLUTELY fly/wiggle/evade defenders excites me. You want to watch some fun tape, pull up some Vaughn highlight reels.
#201 Josh Whyle TE Cinci 6'5' 245lbs
His 2021 year showed a ton of promise for a 2022 breakout year...while he didn't do that, it wasn't a bad year either though. His frame size, body control and hands make him an awesome intermediate and red zone threat. He can if given ability to get a couple long strides in uninhibited to split a seam quite easily as well...long speed is above average, short burst just isn't the best IMO. Worst case I think he offers you everything Tyler Davis does with touch more receiving ability...best case I think he has that TE2 ceiling and could have years where he puts up RZ scores.
#210 TJ Bass OT Oregon
Starter for the Ducks at LT but I predict a shift to right or inside at the next level. Project somewhat and he could land on PS first year - there is a lot to like there though.
#216 Max Duggan QB TCU
Yup...we draft a QB. I am in the camp 2023 will be one where either Love OR Rodgers are gone - both will not be here. So a low tier dart is thrown at a QB that has shown immense potential, has the body size you like and arm strength is there to work with.
In summary we walk away with the following + a 2024 1st rounder from KC (likely a late round pick):
#26 - Michael Mayer TE Notre Dame
#45 - Lukas Van Ness EDGE Iowa
#78 - Julius Brents CB/S Kansas State
#113 Andrei Losivas WR Princeton
#146 Mike Morris EDGE/DE Michigan
5th Comp Pick - Deuce Vaughn RB Kansas State
#201 Josh Whyle TE Cinci
#210 TJ Bass OT Oregon
#216 Max Duggan QB TCU
This is a draft that Gute does his wheeling he likes to do...leans on young and high RAS type guys and future (Van Ness / Losivas) while also grabbing a couple Day 1 for sure starters in many opinions (Mayer / Brents)