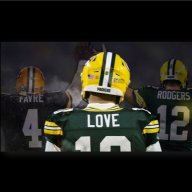 Joined

May 2, 2012
Messages

12,222
Reaction score

3,872
So little outside the box thinking on this but then again Gute has been known to do things like this...and perhaps, just perhaps the hold up to get the Rodgers deal done is multi-faceted and one is seeing who falls to 13 on draft night. This mock sees just that:

Jets on draft night send the Packers Pick 13 and Pick 143 this year, Corey Davis and a 2nd next year
FOR
Aaron Rodgers / AJ Dillon / 7.242 this year / 7th Rounder next year

Jets get a power pairing of Breece Hall and Dillon - who is in his final year and with the structure of Aaron Jones contract next year seemingly meaning he isn't going anywhere ($12m dead hit if we do) Dillon may not be in the future plans of GB.

*FTR this concept hurts me very much. AJ Dillon has quite possibly connected the fastest with fans and fell in love with the area more than I think anyone envisioned a guy to do. He is one of my favorite Packers and this honestly hurt more than sadly seeing #12 in another uniform at this point. I get it from a management point though, 2023 is a reset and see what Love is...if you're going to hit reset and the board falls to us how it does in this hypothetical pulling the trigger on a Rodgers / Dillon trade makes sense.

1.13 - Bijan Robinson RB Texas: Mere moments after us fans learn one of our beloved RBs is gone, we see the pairing which (no offense to Dillon) may just be that much more explosive and dangerous come together as Bijan Robinson hears his name called. Now is this a positionally smart pick - no. Is this a Packer type pick...arguably again no. Is Bijan one of the most NFL ready Day 1 prospects in this class - a resounding yes. Gute goes away from his trend and picks him.

1.15 - Jaxon Smith-Nijigba WR Ohio State: With a ton of elite defenders going in the first 14, Bijan to us at 13 and four QBs....JSN is still there and at least in my opinion is the only first round worthy WR as things have washed out (I used to love Addison but have come off some). So Gute continues to go against "traditional" pick history and selects the first round WR many have waited a decade plus for. Love has two dynamite weapons added and Day 1 is only halfway over....

2.45 - Keion White EDGE Georgia Tech: This man is special. IF he doesn't go before our second round and we haven't selected a iDL or EDGE type guy, White is a prospect type that is nearly impossible to ignore and decide not to pick. Off the bus ready now to serve IMO as a heavy stand up edge or in big packages...or be that Lowry replacement type as well. 285lb dude that essentially runs like a TE (used to be one) don't grow on trees folks. I have little faith Barry can make use of his hybrid versatility but he will just naturally make plays when given chances.

3.78 - Luke Schoonmaker TE Michigan: TE finally happens and it is a blocking but yet athletically built Wolverine. Not asked to do a ton of work in the passing game he still amassed 418 yards 3 TDs on 35 receptions in 2022. A 6'6' RZ target with a very capable blocking pedigree formed at Michigan Luke might not be one of the top 5 we all wanted...but very capable guy that IMO is easily our top inline TE on the roster and would pair well.

4.116 - Keondre Coburn iDL Texas: Big NT type guy that is the epitome of a roller coast of tape...some games this man looks like a true borderline first rounder...other times day 3 flier. Was some of that health? Motivation? Who knows, but if you get even a touch of the elite level games he has shown, his presence at times could be the middle for us while Clark gets to flex around if desired. Not going to be asked to be more than 3rd or 4th on snaps would be the plan along the front - plenty of time to grow and be the NFL guy many think he has in him. 24 hurries last year is special from a middle guy that didn't even play every snap or close even at Texas.

5.143 - McClendon Curtis OL UT-Chattanooga: Curtis was a guy that at the senior bowl had more to prove than arguably any OL there and he proved he belonged. Was there some bad reps sure, but he showcased that his massively impressive stats were no fluke at Chattanooga. If it weren't for Dawand Jones being there, Curtis's wingspan and arm length would have been more the talk of the measurements coming in at 35 inch arms and 84 inch wingspan which at his 6056 height is nearly more impressive than Dawand's 36 5/8 arms and 89 1/2 wingspan but on a 6081 height frame. Curtis in the last three years has only given up 4 sacks (none in 2022), 5 QB Hits, 7 hurries according to PFF - that's elite level protection. Projection has him as a guard but everything about his measurables and testing say he fits the tackle mold for sure... but at this point in the draft I envision your picking between guys like him, Braeden Daniels (who I love...but wanted to share a new prospect here), Nick Saldiveri, Ryan Hayes...

5.149 Davis Allen TE Clemson: Allen is firmly one of my top 10 guys and possibly my favorite TE I see hitting Day 3. Very productive RZ presence in the passing game, with ability in the blocking game but not dominant. Can he step in year one....unsure...is he a better weapon and option than Tyler Davis - IMO YES...even if Davis's familiarity to the system has him getting reps at the start of the year over him. 8.57 RAS for those curious.

5.170 Clayton Tune QB Houston: Tune is too good of an athlete (9.79 RAS) and proven slinger (7600+ yards in last two years + 70TDs..only 20 INTs) to pass up to battle for Love's primary back up and could be the Love back up plan depending.

7.232 Jordan Howden S Minnesota: Athletically special Safety prospect that GB has as a confirmed prospect visit this year.

7.235 Troy Brown LB Mississippi: An athletic LB that could be gone in the 5th or go undrafted - if there and our need of depth with Barnes loss makes a lot of sense.

7.256 EJ Jenkins WR Georgia Tech: This BIG WR may become a TE even, but folks he ran sub 4.6 at the GT pro day and is a MASSIVE bodied man at 6'6' and 245lbs. A PS stash for a year or two that could do the Tonyan thing and build into a decent contributor as years turn....could see him stay WR or go TE.