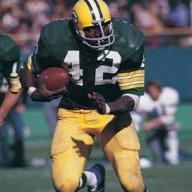 Joined

Jan 21, 2017
Messages

11,240
Reaction score

2,172
I am fully on board with watching the rest of this season play out. Maybe the Packers somehow rebound. However, I think the smart money would bet they don't. If that proves true, you've got a super expensive roster that clearly can't win a Super Bowl, which means it's time to tear down and start over. Here's what I hope would happen or what I think would be smart, with a goal in mind of being competitive again in 2025.

Trade/Retire:

-Aaron Rodgers: Hopefully one of the by-products of a teardown is that Rodgers would just retire. It would result in crippling cap implications, most notably in 2023, but the idea would be to take your medicine and move on. If he doesn't want to be done, trade him.

-David Bakhtiari: It the effort to stay healthy proves too much, Bakh should just hang it up. Otherwise I would seek to deal him. Again-- terrible cap implications, but you're just taking your medicine.

Trade/Release:

-Kenny Clark: I would guess that one could get a pretty decent return for a 27 yo of Clark's caliber on a reasonable base salary.

-Aaron Jones: Expectations would need to be tempered here because of age and position, but I would guess that the Packers could get something back for Jones.

-Preston Smith

-De'Vondre Campbell

-Rasul Douglas

Release:

-Darnell Savage: "That doesn't save any cap space!" you say. Yes, but it saves me having to watch Darnell Savage play football.

Allow to Walk:

-Adrian Amos
-Randall Cobb
-Dean Lowry
-Mason Crosby
-Allen Lazard
-Robert Tonyan
-Jarran Reed
-Marcedes Lewis
-Sammy Watkins
-Keisean Nixon
-Dallin Leavitt
-Rudy Ford
-Eric Wilson

Consider Resigning:

-Elgton Jenkins and/or Yosh Nijman: Both players are young enough that, with OL longevity, one could reasonably assume they're still contributors when GB rebounds as a team. Plus OL play will be key during the rebuilding phase so that other players on offense (esp. QB) can be accurately assessed.

Sign From the Outside:

-Literally No One: "What is a free agent?"

Conclusion: This would leave the Packers with a few building blocks, lots of draft capital, and crippling cap penalties. You retain Alexander and Gary as pieces for the future, while working on development for guys like Stokes, Walker, and Wyatt. On offense, you keep the OL mostly intact while the young WR's continue to grow. That should provide enough of an ecosystem that you could use 2023 to assess Love and either seek to build around him or move on from him in the future. In 2023, flood the roster with rookies, drafted and undrafted, and see who has the ability to stick during a season when you're taking the brunt of your cap medicine so that you have some flexibility moving forward.