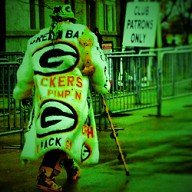 Joined

Dec 29, 2015
Messages

1,232
Reaction score

226
With the Bills losing to Joe Cool and the Bengals, there could be a restructuring of their offense philosophy...

They can't run the ball!!!

Nice backs (Singletary and Cook), but not built for the conditions up in Buffalo.

They need a bruiser to wear down defenses when the weather gets tough...

They have a nice cache of WRs, capable of producing big plays in crucial moments...

So I propose a trade between Green Bay and Buffalo, swapping RB AJ Dillon and WR Gabe Davis.

Both are pending free agents after the impending 2023 season.

Bills get a running back that fulfills a need and fits their philosophy.

Packers get a WR with great hands, good speed, and toughness.

A great complement and mentor to the young WR duo of Watson and Doubs.

Both teams protect themselves from possible overpaying for a player...

Essentially a 1 year rental that's mutually beneficial...

A player for player swap, equal in salary, and can transform both offenses with minimal financial commitment.

Thoughts?