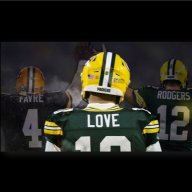 Joined

May 2, 2012
Messages

12,180
Reaction score

3,841
Yeah, I have to disagree with you here. How was his timing with the Love selection proven to be wrong? By hindsight? Here we are, 3 straight off seasons of Rodgers waffling on what he wants to do and now its trade time, how's that for hindsight?

Rodgers was what 36, the age when most football players are done, when Love was drafted. He was coming off of some seasons with injuries and appearing to slow down. About the same time that TT drafted Favre's predecessor and that seemed to work out.

Anyway, no matter how you look at the "should they or shouldn't they have drafted Love", it comes back to Rodgers reaction to that pick. If you are one that believes it was the catalyst for all his dramatic behavior, I might agree with you, but did he act appropriately? A man getting paid over a kings ransom, is going to pout about a QB being drafted? A man that wins back to back MVP's after Love was drafted, proving he can still play, is still going to fuel his resentment in other ways? Sure, the Love pick might have been Rodgers tripping point, but it didn't have to be, he let it be.
My opinion it wasn't until Love selection Rodgers started behaving like a child and waffling - not saying he was justified for that but clearly he wasn't done and excelled then. Just see it as a decision management made because they thought they had a declining QB and while they may have it wasn't then and was proven not the case for at minimum two more seasons.
Holding that opinion doesn't mean I don't understand why they selected him, but it is the MASSIVE push of the snowball that starting building this whole thing up.