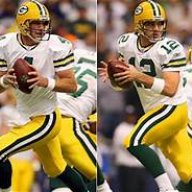 Joined

Oct 28, 2018
Messages

797
Reaction score

56
...Seem incredibly EERILY similar.

In 2007 we lost a heartbreaker at home in the NFCCG to the NY Giants and that 2007 Packers team was LOADED. Favre also had a fine year, not MVP like AR this year.

You can sense in the Press Conference and comments about how physically, mentally, and emotionally draining the entire "process" of an NFL Season is... just to get to the game RIGHT BEFORE the Super Bowl and lose again in a heartbreaker.

Ultimately, that was also the main reason for Favre's retire/unretire BS

On top of that, players leave, rosters change, etc

I think for both, the "talent/ability" they could probably do it until they were 45 or 50 easy. You can just tell by watching them play

I think at this point though, the saddest part is having 2 Top 15 All Time, First Ballot NFL HOF Quarterbacks and only 3 Super Appearances in 27+ years....

I mean, at this point, it almost like a curse or crime or something

It will be interesting to see the Roster changes and overhaul. I also think there has to be "compelling reasons" to make someone put 110% effort into the marathon/process of an NFL Season.

Obviously for this past year, the drafting of Love in the 1st round probably did that for AR... but for next year, who knows?