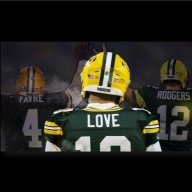 Joined

May 2, 2012
Messages

5,259
Reaction score

482
OFFENSE I was tempted to joke around and say Mason Crosby, but I didn't want to draw CaptainWMs ire. My real choice is Alan Lazard. I think that he was starting to figure it out when he got that injury last season. If we have a stable QB situation then my pick is Lazard. If not, then I am actually going to pick Blake Bortles....for real.

DEFENSE I would like to say Kamal Martin but I think that injuries will continue to plague him, so I'll go with the rookie and choose Eric Stokes. It might not be until later in the season but he seems like he will figure it out sooner than later.



p.s. IMO rookies should never be relied upon to contribute significantly in their first year. No matter where they get drafted or their position, they are still first year players adjusting to the highest level of football at a relatively young age. Therefore, a rookie can break out and play beyond my expectations.
Love the Lazard pick, in all honesty I truly believe one of either him or MVS is going to have a breakout year. Honestly, both could be massively improved but only one "statistically" breaks out. Tonyan is going to eat even more targets, healthy Josiah some too and now Amari...but I still think Lazard or MVS are the strongest offensive candidates for a break out