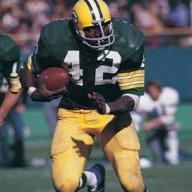 Joined

Jan 21, 2017
Messages

11,342
Reaction score

2,279
This offseason has been framed by many as being about a choice between keeping Aaron Rodgers or entering a rebuild.

But the signals from the Packers' front office is that the latter isn't part of the plan even if the former doesn't come to fruition.

With restructures to Kenny Clark, David Bakhtiari, and Aaron Jones, the Packers have free up 22M in cap space for 2022. Now that makes plenty of sense if they're keeping Rodgers on board and running it all back. But they don't know if Rodgers is coming back yet, and they're doing it anyways.

What that says is that the Packers are going to be striving to put out a winner with or without Rodgers. A team preparing to rebuild would not be mortgaging the future with contract restructures. So either Rodgers is back with virtually an identical supporting cast, or the team is putting as much talent as it possibly can around a new signal caller.

How well things would work out remains to be seen, but it doesn't look like they'll be aiming for a high draft pick, whatever the case.