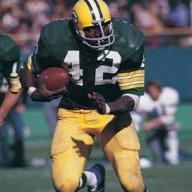 Joined

Jan 21, 2017
Messages

11,549
Reaction score

2,467
There isn't much to argue against that, especially knowing where we are sitting right now. I'd disagree that it's Rodgers causing the dysfunction in the offense. He shoulders some blame, like everyone, but I think the lack of continuity at the OLine position, injuries, youth and inexperience at playmaking positions, a drop in play from year prior, high draft pick not able to stay at practice or on the field etc all played a much bigger role, but that's how I see it. There were many times we couldn't run block, we couldn't pass block, we couldn't hit an early route or protect for a later breaking route. Couldn't gain more than 2 yards once every 4 runs. How do you run an offense? I don't care what you call.

With hindsight, yes trading last year looks like the best time. But he was also coming off an MVP year, we were a game away, we had everyone coming back other than Adams basically but adding 3 all pros who were injured the prior season. All signs didn't point to drop off. many looked like, add a piece or 2 and we're over the top.

It's also important to remember, we could have moved on and flopped and that flop just leads to more flopping. Not every team just turns it around.
Rodgers was far from the sole cause of the dysfunction on offense.
Injuries to the offensive line, play along the offensive line, young receivers finding their way, drops, etc. They all factored.
But
, Rodgers' contribution to the problem is unique in at least two ways:
1) He's getting paid to be elite. Anything less than elite, and he's a net negative to the team. You can't sign a deal with an AAV equal to 24% of the cap and then not be great. Josh Myers was disappointing at times too. But his AAV accounts for %0.7 of the total cap. And you and I both know that there were plenty of instances last year where Rodgers was just plain wretched and it was no one else's fault (e.g. @DET).
2) Rodgers' contribution to the problem was partly on purpose. The offensive linemen weren't trying to get hurt. The receivers weren't trying to drop the ball. But Rodgers was trying to move the scheme back in a direction that is not functional. So it was entirely avoidable, which makes it more heinous in my mind. I'm not saying he sabotaged anything on purpose; he genuinely thinks the way he used to play is better for him and the offense. But it just isn't. The evidence to that effect is incontrovertible.
People might reply "you don't know that-- you're assuming." That's true. But one of two things must be true: Either Lafleur, an offensive mind who uses motion, condensed sets, and PA as staples, decided to go away from all of it at once for stretches of the season, OR Rodgers, who traditionally wants to be in static spread, instigated the drift. Which is more reasonable to assume?
As for the comment on hindsight-- it's hindsight for some, but not for others. I'm not thumping my chest, because I do understand the rationale for running it back with him. But I did say a year ago that they should trade him. The most frustrating part of this season for me was not the play on the field, but seeing the directions of Seattle and Denver and wishing that it had been Green Bay with the gumption to make that sort of move.
As to your last comment-- of course we could have flopped with Love. There is no avenue or direction that guarantees success. But the end is night for Rodgers no matter what we do. You move on now, or you move on in the very near future. My argument is that you make success more likely when you move on a
little
early and accrue a bunch of assets to help you rebuild.