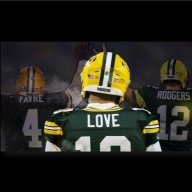 Joined

May 2, 2012
Messages

11,623
Reaction score

3,478
I read that and agree with CaptainWIMM on this one. Other teams just don't get as hyped for CFL, Or UFA receivers. IMO this mentality has everything to do with our starvation at the position. It's simply not in the Packers M.O. to draft receiver or ILB in the first. I do like the Funchess signing. The Packers drafted players to help emphasize the run game and Funchess is a big body that can block. He doesn't have the best hands but has the ability to be a red zone threat. I don't view Begelton as anything but a camp body but in fairness I thought the same about Lazard.
Bingo! We agree more than we disagree I suspect, just sometimes each of our frustrations on disagreements with how each of us would have done things vs what the organization actually did manafests at times and clouds thoughts.
I think the Lazard comp to Begelton retrospectively to the beginning of last season is 100% spot on. The Lazard we know we have (or know to the extent we do...lot left to see) now is leaps and bounds above Begelton as far as expectations for sure. The unknown, untested yet intriguing receiver type that he is I 100% get that comp to Lazard last year before the season.