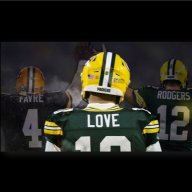 Joined

May 2, 2012
Messages

12,180
Reaction score

3,843
Or.... Rodgers has two or three bad games in a row (due to receivers not separating or simply not being on the same page) and fans start calling for his head (Jones/Eli) *not comparing Rodgers and Eli* simply introducing a scenario. The FO says ok Love. It's your time. Rodgers demands a trade and wins 2 Super Bowls with another team. The packers kick the can for a few more years with Love but end up spending the next 20 years looking for a franchise QB. It's super sad how we wasted a HOF career. Spent a thousand picks on the other side of the ball but couldn't throw the guy a bone.
Just for clarity as perception is simply not always the case, SINCE 2008 draft (first year Aaron took full reigns):
We have drafted 1 long snapper (which I removed from both classifications), 59 Offensive Side of the ball guys, and 54 Defensive side of the ball guys.
That is 52% offense and 48% defense.
By each round if curious:
1st Round: 3 Offensive (23%) vs 10 Defensive (77%)
2nd Round: 8 Offensive and 8 Defensive
3rd Round: 6 Offensive (55%) vs 5 Defensive (45%)
4th Round: 7 Offensive (44%) vs 9 Defensive (56%)
5th Round: 15 Offensive (75%) vs 5 Defensive (25%)
6th Round: 9 Offensive (53%) vs 8 Defensive (47%)
7th Round: 11 Offensive (55%) vs 9 Defensive (45%)
By Year:
2008: 7 Offensive vs 2 Defensive
2009: 3 Offensive vs 5 Defensive
2010: 4 Offensive vs 3 Defensive
2011: 5 Offensive vs 4 Defensive
2012: 2 Offensive vs 6 Defensive
2013: 6 Offensive vs 5 Defensive
2014: 5 Offensive vs 4 Defensive
2015: 4 Offensive vs 4 Defensive
2016: 3 Offensive vs 4 Defensive
2017: 6 Offensive vs 4 Defensive
2018: 5 Offensive vs 5 Defensive
2019: 3 Offensive vs 5 Defensive
2020: 6 Offensive vs 3 Defensive