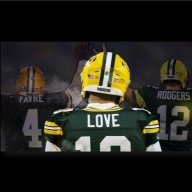 Joined

May 2, 2012
Messages

6,783
Reaction score

1,232
It feels quite like a stab in the dark, but since we won't be having any preseason games to view or family night I guess now is as good of a time to roll this out as any.

Quarterback (3):

Rodgers, Boyle, Love

Running Backs (3*):

Jones, Williams, Dillon

Wide Receivers (5*):

Adams, Lazard, MVS, EQSB,

Turner *Hybrid WR/RB (1):

Ervin

Tight Ends (4):

Lewis, Sternberger, Tonyan, Deguara

Offensive Line (10):

Bahk, Jenkins,

Linsley OR Taylor (one is gone due to cost savings)

, Wagner, Turner, Runyan, Hanson, Patrick, Light

Defensive Line (5):

Clark, Lowry, Lancaster, Hester, Keke

Linebackers (8):

ZSmith, PSmith, Gary, Williams, Garvin, Kirksey, Summers, Burks,

Kamal* Cornerback (6):

Alexander, King, Sullivan, Jackson, Hollman, Samuels

Safety (4):

Amos, Savage, Greene, Scott

Special Teams (3) is the easiest prediction IMO:

Crosby (K), Scott (P), Bradley (LS)

That is 52 players....as the above sits the discussion for the 53rd falls between the following for me atm: John Lovett FB

- Do we keep a true FB is the issue here....

Reggie Begelton WR
Malik Turner WR
Kamal Martin ILB -

*8/26/2020 Update Kamal is making this team...so I'm at 53 with him elevated.


Curtis Bolton ILB
Montravious Adams DL
Will Redmond S
Krys Barnes ILB
Yosh Nijman OT
John Leglue OL Guys I HOPE and would LOVE to stash on practice squad if they don't make cut: Will Sunderland CB
Willington Prefilon DL
Simon Stepaniak OL

- folks I truly think he will be a solid depth guy in a year or two

Krys Barnes ILB

- He is my darkhorse to surprise some folks...

Tipa Galeai LB
Patrick Taylor HB

- once Jones or Williams is gone, I'm telling you I LOVE what this guy could become

Dexter Williams HB

- solid depth guy that will never be more than a #3, but could be a good #3

Jake Hanson C

- If he doesn't make 53, we better stash and pay to keep him there. He is our future C IMO.

Shepherd

Observational Notes:
Leaving Redmond out of the Safety room and Shepherd over Kumerow are two of the "tougher" calls I'll predict. Redmond has been solid in reserve, but I think Scott's playmaking ability and ceiling will be too much not to have him there...now we could attempt a stash on Practice Squad with him for sure, and that'd keep Redmond off the cut list. As for Shepherd, I think we see a redemption story, albeit a small one. He at one time was showing out for us, illustrating great promise and than the debacle happened....it's been a tough process...but the young man still promises better than Kumerow (who I love) as far as what he could become.
Everyone knows I love Begelton....but without preseason games...I wonder if we don't try and stash him on Practice Squad for a year....now granted Shepherd on practice squad and Begelton on the active is an option IF for no other reason than if the organization believes Begelton is more of a risk to keep on PS than Shepherd.
Montravious Adams is done here. I was a fan of us drafting him, been pulling for him but its time for him to have a change of scenery and see he can find success elsewhere. Sucks because the one thing we are struggling to have is a true blue #2 here. Lowry was supposed to that, and at times shows it. I liken the DL to what our WR room has been of late. A FREAKING stud at the top, some AWESOME depth guys but we are clearly missing that bonafide #2. Lowry is gonna need to step up or Keke take a massive step or will Lancaster finally be what he shows in bursts more often than not? I'll actually state that I feel Hester has a great chance to challenge Lowry for the second most snaps of the group...but that doesn't excite me really.
ILB is quickly becoming my most intriguing position to predict after Kirksey. WR used to hold that, but as MVS and EQ apparently continue to separate from the questions on them and the competition on the back end ILB is where the most intriguing battles are occurring to me at least. Kirksey is the clear and easy pick for safety...behind that I do believe Burks is safe one more year given what the organization hopes he still is. But than Kamal, Ty, Curtis, Krys all have intriguing ceilings and or capabilities. Of that group Kamal should rise, but who knows. This is a position I look forward to seeing how it washes out.
Should Ervin be cut, I look for the main benefactor of that to be Lovett (FB), Adams (DL) or next up ILB to come up to the 53 then.
Something tells me something is going to change along our OL front...either a Linsley cut/trade....Wagner not panning out and we cut him eating just a small portion of cash...or something. I just don't see that picture staying as it lays. The way Taylor, Patrick and Runyan (shoot even Leglue) show promis along the interior to me shouts Turner to RT. Time will tell.
For those curious how this compares number wise to 2019:
2019 vs 2020 numbers kept per position in my scenario (I threw Ervin as a WR in this comp)
QB
2 v 3
RB
3 v 3
FB
1v0
WR
6 v 6
TE
4v4
OL
9 v 10
DL
6 v 5
LBs
8 v 9
CBs
7 v 6
S
4 v 4
ST
3 v 3
Last edited: