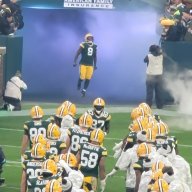 Opinions are like A-holes, we all have one.
Joined

Oct 30, 2012
Messages

28,399
Reaction score

5,742
Location
Ok use logic and explain to me why it would be in Rodgers best interest to give gute a list of 3 teams he was willing to be traded to. So that the packers could maximize the assets they get from Rodgers new team?
The logic is this. In professional sports, I can't recall a player being allowed to dictate to his team 1 and only 1 team he is willing to be traded to. That isn't to say that it hasn't or couldn't happen, it just isn't how trades are typically handled. I also don't think Aaron is so full of himself, to insist on how this would work.
Finally, I don't think the Packers are going to allow Rodgers to handcuff them like that. They might say "give us a list 0f 3-5 teams" but they are not going to say "give us one team" and we will let that team know that they are the only team we are allowed to trade you to.