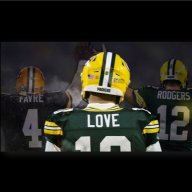 Joined

May 2, 2012
Messages

12,904
Reaction score

4,305
So its a question many of us have weighed in on and many of us even discussed last year. HOWEVER, let's lay out a few of the last big name trades to go down and the one that is supposedly still out there first:
Matthew Stafford Trade
This is perhaps the biggest and most "similar" trade to look to if you're the Packers and/or the team hoping to get him.
Rams gave up for Stafford - Two First Rounders (most assumed would be last 1/3 of the drafts) in future years (2022,2023), a 3rd round pick in the current draft at the time (2021) + Jared Goff (cap shed reasons solely included of course).
Stafford Got - Two First Round Picks, Third Round Pick and a "below average starter at their position because of cap reasons
*Adjusting/Applying this to Rodgers IMO defends the thoughts Rodgers at minimum given his level of play is worth the same as far as picks go...player additions are tough to gauge so I'll merely say this defends the concept of Two First Round Picks plus a Third Round Pick as bottomline. Stafford helping Rams lead his team to a SB IMO doesn't change this some but some would argue that his level of play brings his value more in line with Rodgers value as of today.
Carson Wentz Trade
This trade had some escalators that might elevate one of the picks to a 1st rounder (2022) instead of a 2nd...which were hit. Colts gave up a First Rounder and a Third Rounder
Carson Wentz Got - First Round Pick (2022) and a Third Round Pick (2021)
*This defends the concept of the Stafford IMO as well...if Wentz is worth a First and a Third, Rodgers at minimum is worth substantially more than this.
Deshaun Watson "Trade Discussions"
This is the delusional IMO sky type highside value for a player. Now arguably if legal things clear, Watson's age and skill do make him a more attractable QB.
The "desire" is Three First Round Picks + Three other picks ranging in value.
Speculations on the value of Rodgers I've seen range from as little as Two First Rounders...however the majority of the thoughts appear to be in the Two Day 1 Picks and a mixture of 2-4 Day 2 picks.
Personally, I don't believe you get the Three First Rounders, Two Seconds and players as Albert Breer wrote in December (
HERE
)...he is crazy high, and even includes some players in his deal.
I'm in the Two Day 1s and Two Day 2s (where one minimum is a 2nd) camp personally. It's more draft equity than Stafford garnered but not too terribly much. Now you could see more Day 2s come Green Bay's way, if say GB includes some Day 3 picks in the transaction which isn't uncommon in larger trades.
I must stress this is merely a thread to discuss what Rodgers is worth in a trade....this is not a debate of whether we should, this is not a debate of how many years Rodgers will play, his playoff record or anything else which can and is discussed everywhere else. This is purely a discussion of IF Rodgers is traded, what REALISTICALLY do you feel the return is?
Last edited: