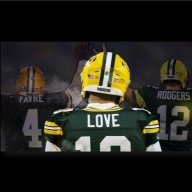 Joined

May 2, 2012
Messages

11,662
Reaction score

3,505
Just some stepping back and placing a grade now at the "mid-point" of the season...actually past it truly. This is looking at positional groups, not individuals; although I do in brief narratives discuss at times some individuals.

Special Teams as a Whole: D+

If you removed Bojo from this overall grade I'd argue for an F. Amari has not done anything special but has been serviceable and better last few weeks...but honestly as a whole very abysmal year really. Bojo gets an A but that's it.

Quarterbacks: B-

I just haven't been too happy overall with it...and I will admit the B- may be a bit harsh, cuz a bad Aaron Rodgers is still better than most the league. But I expected more and have gotten less. With the slew of injuries and OL woes, it makes some sense and I wouldn't be shocked if once Bahk is back we solidify and really hit a stride.

Running Backs: A

Not sure you can to this point have expected more out of your two headed backfield. Every single game it seems if Jones is off Dillon steps up, if Dillon is off Jones does. Truly been an immense blessing to have two very deadly and yet different RBs to use. Jones injury hopefully won't steal him for long, but I cannot praise this group enough IMO. We've left some yards at times out there, but as a whole any issues we've had are not due to RBs not delivering.

Wide Receivers: B...eh...let's go B+

This group has continued to be dependable, reliable - yet as we all know outside Adams definitely not extraordinary. The thing that bumps this to a B+ for me is pulling through without Adams, the depth stepping up without your top two really illustrates solid roster building (this isn't to take away anything from having a GOAT at QB - fully acknowledge this). I think my favorite part of this room is just how different tools each WR seems to bring to the room.

Tight Ends: B-

I'm a Josiah Deguara fan, most know this, however he is what drags this down. He can and has shown he can do more, yet is struggling. Lewis is playing A level without a question and many fail to understand just how CRUCIAL of a cog he is whenever this team sees success. Another reason this is a B- and not a B or higher outside of Deguara is it appears we don't have a Tonyan replacement ready - which I know it is impossible to have crazy depth at every role. We are far from weak here, but I think there is definitely room for growth, especially out of Josiah.

Offensive Line: Undecided...one hand I want to say A, otherhand B-
I struggle to put a grade because on one hand this group has overcome some incredibly hard to handle injuries. Having to have Yosh play so many games at LT, starting two rookies... Relative to expectations we are doing amazing, relative to OL performance we are struggling at the guard positions, especially Newman.

Defensive Line: B

The resurgence of Lowry this year is what bumps this up to flirt with an A...however the supporting cast of Keke, Slaton and Lancaster has been a true Jekyl and Hyde type performance. I like the projection of this group, and plenty of room left on what I think this room's ceiling is. Good news is we are not regressing here as a whole, which has been the case in the past.

OLBs: A

I've loved this group for so many reasons, but mainly because they've suffered losses (Z and Rivers....now possibly more) and yet have been one of the most consistent groups with a G on their helmets. Preston is playing incredibly well against the run this year, starting to get pressures and dictate the pocket...Gary is just an athletic freak, Garvin taking steps forward and Whitney an excellent addition. Ladarius could be called back after being released now depending how Gary/Mercilus injuries pan out....but SOLID group performance so far this year.

ILBs: A+

The ONLY knock on this group is the depth behind Campbell and Barnes. That duo gets an A+ from me. Campbell has arguably been the most pleasant surprise guy of 2021. I knew he was going to be dependable, but I would have NEVER expected this level of production, just a special special thing we are watching in Green Bay. Burks is why this group gets the only A+ for me, his growth and providing a real #3 here just makes this group round out into something special as whole as well as the starters being incredible.


Cornerbacks: B

I would go B+ instead of a B- or C+ because of what we've had to overcome. The loss of Jaire, King being unable to go for a time, the Yiadom failing as a starter, Stokes being a rookie.....this group is playing incredible all things considered. Rasul has been just a home run pick up and Sullivan is starting to show signs of why the staff has always been so high on him. You add Jaire back to this squad at somepoint and I could hear an argument that this is the best CB room or should be that we have had in a LONG LONG time looking just at this year and what they've been doing.

Safeties: B

Amos and Savage are just a nasty good pairing, despite starting the season a little rough. Throw in Henry Black really overshooting what most ever would have guessed he'd be at this soon in his career and this group has been solid - especially of late.


Thoughts?
Last edited: