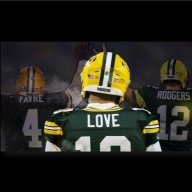 Joined

May 2, 2012
Messages

9,135
Reaction score

2,163
My board is crystalizing deeper and deeper into Day 2 and 3 for me personally. This draft doesn't fall quite the way I desired, but I'll explain as we progress.

ROUND 1 - PICK #29 - SAMUEL COSMI - OT - TEXAS - (RAS: 9.99)
Cosmi started 34 of 35 games played under his belt at Texas, with 14 being at right tackle and 21 at left tackle. At 6'7" and 310 lbs I don't foresee a switch inside, but that isn't why you draft Cosmi. Cosmi is a right tackle for sure in the NFL, with the option to explore left tackle if needed. Extremely athletic, strong and quick/skilled feet. My only personal issue is his length doesn't flirt with 34 like you'd like a Tackle's to at the next level. 33 inches is that hard cut off for me personally...and he is right at it. His technique and athleticism doesn't make me ignore that concern but sitting at #29 and Stokes/Newsome both gone...I elected Cosmi over Barmore and Samuel - of which both would have been solid and defendable picks as well.

ROUND 2 - PICK #62 - NICO COLLINS - WR - MICHIGAN - (RAS: 9.56)
Collins is not that slot option we all "want" or believe we "need", BUT what Nico is - is a surefire #2 WR that would make contract decisions after 2021 much easier to let a guy like Lazard walk or if Funchess proves his tank ain't empty walk as well. He's 6'4'' and 215lbs that can jump (37.5 vert), run (4.45 forty) and accelerate (1.55 10-Split) with the best of them and if not the best at his size. If he hadn't been force to suffer through the QB play at Michigan we would be looking at a stat machine and still is no slouch. Crisp routes, high points the ball and showcases various ways to win at matchups. WR is definitely NOT as big of a need as OL, DL or CB - but if Nico is still there at 62 it would be a big mistake to not grab him. The only notable guy(s) tough for me via my board to pick Nico over was Jackson Carman (already nabbed a OL so easier to pass) and DBs Elijah Molden, Jevon Holland and Ifeatu Melifonwu (all three very different offerings and player types that I'm high on).

ROUND 3 - PICK #92 - PAULSON ADEBO - CB - STANFORD - (RAS: 9.55)
Adebo, once a top3 nearly across the board prospect in 2020 draftee class that opted back - then covid season....now sits fighting for a Top 10 CB on most boards. He showcased at his pro-day much of why many of us (myself included) still believe he is one of the best of the bunch. Running a 4.45 (6'1" 190lb frame) he proved he has the speed, but mixed it with an excellent vertical (36.5) and a very impressive 3-covne of a blazing 6.69. Paulson doesn't need to be our #2 out of the gate now with King here, but folks I don't make this pick envisioning that being the case long and King could find himself clawing for playing time very quickly with Paulson having a LOT to say about it.

ROUND 4 - PICK #135 - SADARIUS HUTCHERSON - iOL - SOUTH CAROLINA - (RAS: 9.89)
Sadarius is a guy I am VERY high on, and personally feel could wind up competing and winning a spot on an NFL roster at ANY of the 5 offensive lineman positions. For us interior will be where his battle will be, offering us flexibility with Jenkins if needed - pushing Runyon hard (will only result in a better Runyon) and has the ability to if needed swing outside in a pinch - but with sub 33 inch arms don't plan on an outside role in anything more than a pinch. Once you get to this point there are tons of picks you always like but perhaps Caden Sterns (S) was my biggest hurdle to look past in picking Hutcherson here.

ROUND 4 - PICK #142 - TEDARRELL SLATON - iDL - FLORIDA - (RAS: 7.96)
Remember when we went out and grabbed snacks for a run stopper? Well this draft pick is the exact same concept - give Clark assistance/flexibility and provide the defense something we need. Slaton is 350+lbs, but has the athleticism his body shouldn't be capable of. While not an interior pass pressure type, he has the anchor to plug a spot, and push the pocket on passing allowing things to open up for those around him. Daelyn Hayes and Sterns were both still there and the biggest attention grabbers on my board.

ROUND 5 - PICK #173 - JAVIAN HAWKINS - RB - LOUISVILLE - (RAS: 7.02)
Elite acceleration (1.53 10-yard split), overall speed (4.46 forty) and hands capable of assisting in the passing game - Hawkins is that complimentary back that IMO is also drafted to handle the Ervin/Austin role of jet sweeps while making defenses also plan for when he motions in and out of the backfield fully capable and experienced at taking handoffs. Put up a lot of production the last two years - and arguably would have a complimentary role to Jones/Dillon for 2 years - plenty of time to learn and refine parts of his game that technique isn't overridden by his insane athleticism. Gadgety type guy though here, something many have wanted but always look to WR prospects for.

ROUND 5 - PICK #178 - ROBERT ROCHELL - CB (S) - CENTRAL ARKANSAS - (RAS: 9.65)
Robert is a dude some list at CB, others treat as a Safety - but that is precisely why he finds himself coming to Green Bay. I do not want Sullivan being our nickel option...and I love the idea of maybe Savage roaming free more. Rochell is very athletic, above average speed, no fear at point of attack and just a guy teams' loving having on the backend, in the slot or providing that dime play. For reference the dude ran a 4.41, jumped 43 inches on his vertical and SOLID shuttle/cone drills to boot. Ignore the school he is from, this dude physically and appears mentally to have the chops many just aren't given in life, could go end of Day 2 to some, but I think early/mid day 3 steal here.

ROUND 6 - PICK #214 - GARRET WALLOW - LB - TCU - (RAS: 8.13)
I've highlighted Wallow often, but one thing I've failed to bring up with numbers is his quickness. His shuttle of 4.12 and his 3-cone of 6.87 is ELITE level stuff for his position. Mix that with his above average overall speed (4.65 forty) - Wallow provides that slightly more athletic, coverage skilled LB to compliment what Martin and Barnes are building already.

ROUND 6 - PICK #220 - JOSHUA KAINDOH - EDGE - FLORIDA STATE - (RAS: 9.59)
Kaindoh is one of those guys that his measurables and profile makes a GM want to see what happens. A massively popular recruit coming out of high school, garnering offers from nearly every high profile college/university Kaindoh just seems to never quite push through the hurdle of meeting his expectations. A frame that to me could add weight and play more of a hybrid role of either OLB or outside but hand in the dirt type guy. Part of that though is nagging injuries over his career at FSU limited him to just 10 starts and less than 400 snaps a season....even though, his 6'7" frame is a defensive coordinator's dream in how it measures out - the real key is can he stay healthy and finally put forth the glimpses he did always illustrate at FSU when healthy. He is the definition of a boom or bust level player in the 6th...the boom side of the coin is immense and is why I just couldn't set on him personally.

ROUND 7 - PICK #256 - TONY POLJAN - TE - VIRGINIA - (RAS: 4.68)
To me he screams the future Y TE for us and there arguably is no better version of that to learn behind than Marcedes aka Big Dog. When asked his hands are solid, but his future is blocking and assisting in short routes with a shocker of a seam break every once and a while. With Tonyan's future iffy, Deguara coming off injury and Jace seemingly facing a due or die type year adding a TE makes a whole lot of sense here.

Multiple times I saw guys at the top of my board go just 3 or fewer picks before ours...Newsome and Stokes went before 26, Sterns & Stills right before 142, Tre McKitty before 178 surprisingly and Tarron Jackson off the board early before the Wallow pick (214).
Last edited: