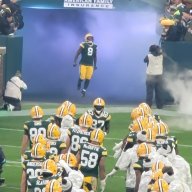 Opinions are like A-holes, we all have one.
Joined

Oct 30, 2012
Messages

28,976
Reaction score

5,926
Location
So what? i don't mean to sound flippant, but really, so what? Yes, Rodgers is a major factor. But it's no different then when we used to have open season on rookie contracts. Nobody did anything until the big dominoes fell and then everyone was signed.
So what? That is the part I don't get. Rodgers decision influences the direction this team heads. If you think they will make the same moves, no matter what Rodgers does, I would disagree. If you think they will have a lot of time to negotiate and work on other players, based on Rodgers last minute decision, you are wrong.
I don't really understand how you can compare this to Free Agency with players coming off of their rookie deals. Rodgers is a future HOF QB and not a guy that you simply replace with the next best thing in Free Agency. Rodgers is already under contract, but that contract won't work for the Packers and if he refuses to rework his current contract, what then?
The distraction of Rodgers to the team right now is just a joke, they are literally hamstrung until Rodgers makes his decision. I have to admit, I stole "hamstrung" from Silverstein and this clip.
You must be logged in to see this image or video!