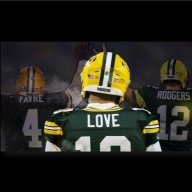 Joined

May 2, 2012
Messages

10,973
Reaction score

3,102
In the saga that is Green Bay's 2021/2022 offseason, which I actually believe Rodgers and the rumors WILL NOT be like last year (UGLY), now that the honors night is done and the Super Bowl on the horizon we have a lull in the action if you will. No one expected Rodgers to say anything till after the Super Bowl at the earliest...but I expect it will be nearly a whole week after or close to it.

Here are a few of the key league year dates looking forward for both Rodgers scenario but also just overall that I know every year folks are curious on:


February 13th - Super Bowl

February 14th - Waiver system begins for 2022 year

February 22nd - First day clubs to designate Franchise or Transition Players *IF you are in the camp that Rodgers staying is tied to Adams this is the crucial date, and even Aaron has mentioned he wants to have a decision in time for the team to make this call - that said the team can apply this during a window, this merely is the first day or the beginning of that window.

February 23rd - Gute's Press Conference

March 1st-7th - Scouting Combine

March 8th - DEADLINE for designating Franchise or Transition Players *100% the team, Aaron and Adams will want to know precisely what and where we are heading.

March 14th-16th - Clubs permitted to contact and enter into contract negotiations before the signing window with the certified agents of players who will become UFAs at 4PM on the 16th.

March 16th 4PM (New York Time) all 2021 player contracts will expire and the new league year begins.

April 18th - Offseason workout programs for Green Bay (since they have a returning HC) can occur

April 22nd - Deadline for RFAs to sign offer sheets

April 28th - 30th - NFL DRAFT

May 2 - Deadline for exercising fifth year options on players selected in the first round of the 2019 draft *Darnell Savage

May 3 - Compensatory pick impact is over and signings now of UFAs will not factor into 2023 compensatory picks.
Last edited: