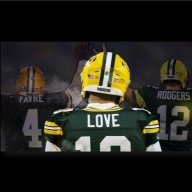 Joined

May 2, 2012
Messages

10,983
Reaction score

3,106
So the hot button discussion last night with a good friend of mine was centered around two very different viewpoints or approaches to the same player - that player being Jaire Alexander.

We all know Ball and Gute got the Packers in under the cap for 2022....barely it seems...and without the Campbell deal actually on the books yet....which is why even Spotrac shows we aren't actually under the cap (they have Campbell's contract loaded in). We also know that Green Bay wants to sign Adams to an extension....easily north of $20M a year, but beyond that sounds sides are split heavy (years, guarantee and average all factors in that I'm sure)....we also just signed Rodgers to a MEGA extension....now its true the cap is set to (barring an economical collapse) increase measurably for the next few years and some are saying could hit $300M by the 2025 season even.

All that said, here we are the beginning of 2022 season has come and the one extension we all figured was a no brainer and sure thing to happen hasn't yet. The vein of thought in this discussion was a question posed:

"Do you think there is ANY chance at all that the organization let's Jaire walk due to extending him (along with Rodgers, Adams (hopefully), Smith and Campbell extensions...) simply would fiscally place us at a Gary or Elgton crossroads?"

My buddy and I are massive Jaire fans, want him resigned and believe he deserves 100% top 5 CB pay....however, could one make the argument the reason no Jaire extension is because first Russ and Gute want the Adams future money to be sorted out so they can run scenarios on Jaire and from that also trickle towards Elgton and Gary (the next two MASSIVE deals down the road coming)?

I see the validity in the thought...and then you have the fact he did hurt his shoulder in 2021, plus the emergence it seems at least of Stokes being a legit NFL CB and time will show just to what degree....

In the end of this discussion, both of us believe Jaire will get an extension and it will occur before week 6 of this season most likely....you just don't let arguably your best defensive player at a crucial position to success in this league walk....even if that means future issues arise.

Your thoughts?