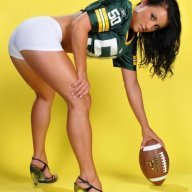 Joined

Jan 10, 2010
Messages

1,269
Reaction score

199
Location
I'm not sure if you realize he was 20/26. That's 76.9% completion rate with a 115% Passer rating. That's the 3rd game he's had over a 113% passer rating.

Did Love play perfectly? No

Did he struggle with accuracy today? No

Some of you guys just don't want him to succeed. Just Admit it. You've made up your minds already. You the same old rhetoric "he should be further along after 4 years in the NFL". Which implies we should judge him in todays work.
Then when he actually plays good today you say "he should be judged on what someone said 4 years ago".

Do you see how that might make some of us speculative on your credibility there?
Frankly, I think it's ridiculous that every debate has to be staunchly for or staunchly against Love. I didn't come here at any point and say Love is terrible, I said stating he played very well was a stretch. I want him to succeed as should the entire fanbase because it means we don't have to waste capital on another quarterback prospect. However, stats are only telling part of the story here. Watching the game, he was definitely helped by his receivers with some of the completions. He was throwing high and low for many of them. I don't have the tape or screenshots to show it, but I watched the game.
The one thing I don't want us to end up with is a $40 million contract like the Giants are dealing with right now. We have to be real about his growth or we're going to be in purgatory. I'm rooting for him, but I'm going to be watching intently for flashes that make me feel like we have something or we don't. And no, I'm not expecting Rodgers or HOF play.