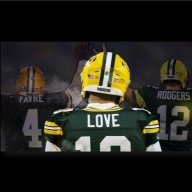 Joined

May 2, 2012
Messages

6,429
Reaction score

1,057
Welp...here we are, sitting at bye week undefeated. I had us 3-1/4-0 all hinging on the Saints game...but never expected it to have been this "easy".
Overall Notes:
MLF has our offense leading in or Top 5 in nearly every important category that exists...this has occurred despite what many of us call a sub-par WR group each game and with a OL that has changed a lot since last year.
Defense has done enough, but has continued to grow through each game many could argue. To do what we have starting an UDFA at ILB, reserves along our front while some concern is legit you cannot help but be happy with how they're projecting. Holding ATL to what they did (they are a good offense) was impressive.
Offense Notes:
4th in passing yards & rushing yards in the NFL, 2nd most overall yards.
The dispersal of the ball in this system has been RIDICULOUS...I mean if we remove Aaron's one negative reception, yet include EVERY one with one reception or more...they all are averaging 8.3 recepts and 101.7 yards!! We have 6 guys already with a dozen receptions or more....two guys over 200 yards (with Tae at 192) and 4 over 100 yards. We have only 3 receivers whos YPC are under 10 - Aaron Jones at 9, Jamaal Williams at 9.2 and Tyler Ervin at 5.2.
Tonyan has arrived folks, just is what it is. He officially is our TE#1 of the future, not Jace.
The second year in the system, the chip of drafting Love all have Aaron looking like he is having a ball and legit appears to be running for that MVP award.
Rushing the ball has been as successful as passing honestly. Jones (374yds) is pumping out 5.8 YPC and is averaging about 16 carries a game...Williams (108yds) is at 3.7 YPC and averaging 7.25 carries a game...and Dillon (34) 4.3YPC and two a game. Ervin has rushed 4 times for 43 years to note.
Versatility and Diversity has reigned supreme...rookies and young guys are stepping up when needed.
Zero turnovers...seriously....FIRE
Defense Notes:
13th in total yards allowed & 18th in points allowed with 3 turnovers. (remember that includes two teams that haven't played 4 games)
Depth has been TESTED at various spots and 100% have passed the test, maybe not always pretty but passed for sure:
Krys Barnes illustrating why many loved him out of college, his size and such though made folks wonder just who he was...so ecstatic with what he has shown. For any rookie, let alone a UDFA, his instincts and footwork is well ahead of what anyone would expect. I cannot wait to see if this is something he can sustain or not. Get Martin back, Kirksey back...this ILB group I am beginning to like more and more...
Summers...a late rounder a year ago now is showing progress and has earned why he is in there.
Secondary is getting better at tackling...last night loved seeing the non-stop pursuit of guys like Jaire and Savage...even after a miss they were relentlessly re-pursuing.
Preston is playing a much different role this year - and excelling. You won't see it in a statline possible but trust me the staff loves what he is doing.
Lancaster and Lowry are the dudes being asked to step up the most....and beaten and bruised but getting by. Lancaster showed the best last night IMO against the Falcons. Passing grade, but not the best...they better step up or get help (Snacks always help LOL ) to give us help when Clark is out and him a break when he is in.
Promising Young/Overlooked Guys Growing:
I mean we got past drafts or castaways all seeing snaps and delivering:
Lazard - Cut/Castaway added late 2018...really tested last year and this year proving it may have not been a fluke.
MVS - 2018 Draftee. Yes limited, but the dude has gotten serious attention from the opposing defense. He is not a #1 or #2...but 100% is a guy that can kill you as a rotational 2nd option or 3rd option given what he is.
Tonyan - 2018 added UDFA/Castaway. Fellas FINALLY seeing his potential.
Deguara - 2020 Draftee, many doubters like what he is when in there.
Dillon - 2020 Draftee, limited snaps but when asked has done well.
Jace - 2019 Draftee, has had good/bad, but still lot of growth to occur it seems.
Malik - 2019 UDFA/Castaway, shocked folks making squad...now getting some action and showing promise.
Shephard - 2019 UDFA, trying to come through after fumbling his 19' shots given. Kinda cool seeing him get out there and Rodgers clearly likes him.
Barnes - UDFA 2020 - Cannot say enough, called upon before he should have been, done more than he should be able to...LOVE IT
Summers - 2019 Draftee - Getting chances and passing. Has had some rough plays, but overall promise is there.
Garvin - 2020 Draftee - getting snaps and delivering in limited time.
Runyon - 2020 Draftee - Limited snaps but no hesitation by staff with him.
Obviously guys like Savage and others been progressing but clear starters from day 1 I didn't include.
I know I missed stuff but quick minute of reflection shared.
Last edited: