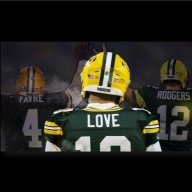 Joined

May 2, 2012
Messages

10,495
Reaction score

2,854
Lot of different statistical lines and thoughts so no one thread fit this, so here is a bunch of observations and stats so far from our season now that we are essentially a "quarter" (that 17th game takes that truly from us now) of the way through the regular season.

Missed Tackles An Issue
PFF has us at 25 total, pro football reference 19...either way we are not good compared to the league and not terrible but we missed according to PFF 10 each of the first two weeks. The more troubling thing is that De'Vondre Campbell has been the biggest issue in this stat. We simply cannot afford to have our main starting off ball backer not playing at a level we need. Campbell miss% this year is 14% right now...last year it was 2.8%....we gotta get at least halfway back to that IMO.

Explosive Plays Are Happening
Green Bay to some have a sputtering offense, but one promising statline is that they are one of the best. In passing plays over 20 yards we are second only to the Lions with 17 total. We are second overall when you add up those 20+ passing plays plus 10+ yard running plays. Big plays are happening, which hasn't always been the case. Aaron Jones alone has accounted for 13 of our total 35 explosive plays with 12 of those being runs over 10 yards (3rd most in the league on the ground).

3rd Down Defense is TOPS!
While the defense at times has given up swaths of ground late in games, this team one third downs has been incredible. One of only two teams with sub 30% conversion rate...we set at tops with opposing teams only converting 10 out of 42 times for 23.8%. That is essentially a full 15% better than the league average!!! Folks this is special. While we are middle of the pack in RZ defense, this 3rd down stuff is incredible.

Sacks a Plenty...for one especially
Team wise we have 11 sacks, which only 5 teams have more than us (5 other teams have 11). Gary accounts for nearly half of those though with 5. This is a special pace of 21 total sacks for Gary...if he sniffs that 16+ range there is a solid chance we could have a DPOY candidate. Overall Pressures the team is 7th in the league according to Pro Football Reference creating pressure on 27.7% of the chances to.

We don't have a 1,000 yard pace WR...but we do have THREE 600+ yard guys...
Yup, that's right we have three guys on pace to break that 600 yard mark...Lazard leads the pace projecting to have 928 yards if he stays healthy and keeps his trend...Romeo is on pace for 782 and Cobb at 637. Honestly, that SOLID production out of your top 3 WRs in the room and IF they did that would total 2,347 yards...last year our top 3 WRs put up 2,496 yards.

Rushing Projects Well Too
Jones is presently on pace to flirt with 1,389 yards (last year 803) again just needs to stay healthy. Dillon projects to 896 if trends stay (799 last year). It is tough to envision Jones keeping his YPC as high as he presently boasts at 6.8....but who knows.

Turnover differential not good
The team has 4 takeaways and 6 giveaways (3 INTs and 3 Fumbles Lost)....this is one facet we have to get better at.

Pat O'Donnell has been incredible
He is averaging a better distance than Bojo by a little but check out this INSANE line. Bojo had 18 punts end up inside the 20....Pat already just four games in has 11. ELEVEN!!! Bojo had only 12 fair catches...Pat already has 7. SEVEN. Now Pat has averaged one additional punt a game in his four vs Bojo across the 2021 season....but still.

Yards After Contact and Yards After Catch We Are Excelling
Yards after contact Aaron Jones is one of the best this year so far, averaging an additional 3.4 yards. ONLY Rashaad Penny averages more after that contact. Dillon isn't terrible with his style difference and is the 33rd best in this, 31st best RB (as Allen and Lamar made list). As for Yards After Catch...Doubs is the 20th best in the league but the 9th best WR in total yards after catch. We have FOUR (Jones, Dillon, Cobb, Doubs) in the Top 35 in average yards after the catch per reception.

Runyan is a pass protect BEAST
Jon Runyan after week 4 is now one of ONLY TWO offensive lineman in the league to have played at least 50 pass blocking snaps and not give up a pressure. Corey Linsley is actually the other one. Runyan has been credited with 124 clean pass protecting snaps this year according to PFF.

Rodgers Fourth Quickest So Far
Aaron is averaging only 2.46 seconds before getting the ball out of his hand, good for the fourth quickest in the league. Right now according to PFF Rodgers is completing over 80% of his passes when he no longer has the ball by 2.5 seconds.