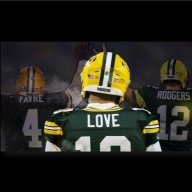 Joined

May 2, 2012
Messages

11,108
Reaction score

3,173
Scattered conversations have occurred all over. Here is what has actually happened.

Ryquell Armstead (Our PS - signed after Taylor elevated/Hill injured) - currently on the Practice Squad and most likely upgrade to active while Jones is out most likely two weeks. He and LaDarius Hamilton were placed as our protected PS guys this week and most assume will be elevated for gameday. Out of Temple, with a RAS score of 7.73 - Ryquell has been said to have all the tools, just been working on translating them into the next level jump into the NFL.

Kerryon Johnson (Street FA) - Came in for a workout but did not sign as of now.

Kerrith Whyte - Just brought in and signed to Practice Squad (11/16/2021).
This Florida Atlantic prospect is FAST (4.36 forty), has KR history and just hasn't turned his potential into any kind of real production to stick on a roster. Could grow into a KR role or an Ervin type role if ever elevated. For those curious his RAS Score was 8.58 - an incredible physical athlete, but quite raw talent working on sticking somewhere to grow. Give him space with the ball though and this kid can absolutely blow by and past nearly anyone with his speed.