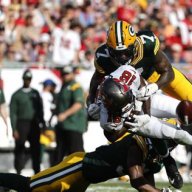 Joined

May 12, 2014
Messages

5,044
Reaction score

1,109
That doesn't make any sense. It was Gutey that found him. He came off a PS and we got 2 years usage for peanuts. 2024 he was slated to punish our Cap at $11.2mil. Instead Buffalo picked up his contract and we sacked $864k in our Trick r Treat bag. Probably 1 of Guteys best returns on investment in his career.

Brian took a PS for peanuts who played at CB2 level to a player earning us essentially a top 100 area selection +12Mil Cap exchange over 2023-2024. In exchange for a 150 overall

Plus both Stokes and J'aire will be back next year. Plus we've got several new guys that look promising that need to get time.
Not to mention what that Top 100 pick will bring. A player for 4 years?

Plus you go from a team in rebuild to a Postseason favorite.
I know it's an emotional rollercoaster this year. But there's a business side that can't get in the way of emotions. If I was Rasul's agent I'd tell him to count his blessings. He has an opportunity to showcase himself on a contender. That means another lucrative contract possibly as soon as next season.

The crème topping? Gute admirably sent him as close to his Hometown as you can ask for. It's like you getting signed in GB 2 years ago and you grew up in St Cloud MN. Pretty brilliant actually.
Yeah, $11M is quite a bit. You have a point.