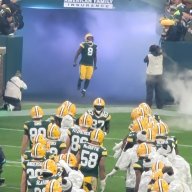 Opinions are like A-holes, we all have one.
Joined

Oct 30, 2012
Messages

29,794
Reaction score

6,341
Location
Something I like to watch before the draft is the list of players that the Packers have some type of contact with before the draft, in recent years, some of these guys end up getting drafted or signed as UDFA's by the Packers. TT seemed to spend a lot of pre-draft time with eventual UDFA's.
The most up-dated list for 2019 I can find so far is as follows:
SR - Senior Bowl meeting.
EW - East-West Shrine meeting.
COM - Combine meeting.
INT - Interested.
VINT - Very Interested.
PRO - Pro Day or campus meeting/workout.
LOC - Local visit. Prospect making a local visit.
PRI - Private visit. Prospect making an official 30 visit.
WOR - Private Workout. Members of an organization working out a player in private.
STM - Some Type of Meeting.
Andrew Beck, FB/TE, Texas (PRI)
Nick Brossette, RB, LSU (EW)
Blace Brown, CB, Troy (EW)
Lukas Denis, S, Boston College (EW)
Noah Fant, TE, Iowa (COM)
Tim Harris, CB, Virginia (PRO)
Penny Hart, WR, Georgia State (SR)
Daylon Mack, DT/NT, Texas A&M (EW)
Kaleb McGary, OT, Washington (PRO)
Ed Oliver, DT, Houston (COM)
Jachai Polite, DE/3-4OLB/OLB, Florida (COM)
Randy Ramsey, OLB, Arkansas (PRI)
Jeff Smith, WR, Boston College (PRI)
Jace Sternberger^, TE, Texas A&M (COM, PRI)
Montez Sweat, DE/3-4OLB/OLB, Mississippi State (PRI)
Jawaan Taylor, OT, Florida (COM)
Cody Thompson, WR, Toledo (EW)
Olisaemeka Udoh, OT, Elon (EW)
Quinnen Williams, DT/3-4DE, Alabama (COM)
Greg Little OT, Ole Miss (PRI)

Kaleb McGary OT, Washington (PRI)
Trysten Hill DT, UCF
AJ Brown WR, Miss (PRO)
Alec Ingold FB, WI
Andrew Van Ginkel OLB, WI

Donnie Lewis Jr. CB, Tulane
Ryan Connelly ILB, WI
Kaden Ellis LB, Idaho
Here is a list of prospects the Packers were in contact with in 2018:
Allen, Dejon OT Hawaii
Boyle, Tim QB Eastern Kentucky
Burks, Oren LB Vanderbilt
Cichy, Jack LB Wisconsin
Cruikshank, Dane DB Arizona
de Beer, Gerhard OT Arizona
Donnerson, Kendall EDGE SE Missouri State
Dooley, Garret EDGE Wisconsin
Edmunds, Tremaine LB Virginia Tech
Falah, Nico C/G USC
Ford, Mike CB SE Missouri State
Hughes, Mike CB UCF
Jamerson, Natrell S Wisconsin
James, Derwin S Florida State
Miller, Kolton OT UCLA
Moore, J'Mon WR Missouri
Pettis, Dante WR Washington
Sheehy, Connor DL Wisconsin
Valdez-Scantling, Marquez WR USF
Vea, Vita DT Washington
Last edited: