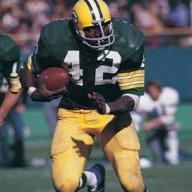 Joined

Jan 21, 2017
Messages

10,455
Reaction score

1,387
When I was referring to tape I meant his tape as DE.

$7M is a worthy "experiment" in my opinion. He can't do any worse than Blake Martinez, and Blake might fetch $10-13M on the open market. At the very least with his athleticism, we're looking at a guy who will get into the backfield. Pettine can use a Safety(as he as with Greene, Campbell, and Amos) for coverage responsibilities and obvious passing downs which allows Beasley to be a pure rusher.

Even if he shows he can't be a 3-4 ILB, he definitely can be a 3-4 OLB. That allows Z. Smith to come down on the line and tandem with Gary. Beasley plays OLB opposite P. Smith. That's a championship quality pass rush on 3rd down and opposing 2 minute drills.

Don't say he can't do it just because you never saw him do it. He has traits that shows he can.
Exactly-- you have no tape to base that on. You're saying that he CAN do something else because you've noticed what he CAN'T do. It's like me watching a receiver who struggles with drops and deciding he can play corner and saying I'm basing it on "tape."
Given how many needs the Packers have to address, and relative limitations to their cap and draft resources, spending 7M+ on a shot in the dark is not even close to worthy. If Gutekunst did that, he should be relieved of his position. That's utterly irresponsible.
And he absolutely can do worse than Blake Martinez. Way worse. I'm not fan of Martinez, nor do I want him back, but there's a good chance that Beasley straight up just can't play the position. Instincts, awareness, and ability to read and react are paramount at this spot. You can't assume that a guy has those things based on height/weight/speed metrics.
Lastly-- you're saying to move him to off ball linebacker because he isn't a fit at edge, and now you're saying that if he doesn't work out at off ball you can just move him back to edge. He would have the exact same issues at 34OLB in our defense that he's had on the edge for Atlanta. You're talking in circles.