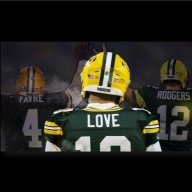 Joined

May 2, 2012
Messages

11,662
Reaction score

3,509
I know many are always intrigued by the ratings, even if they are merely a metric to observe if nothing else.
Few noteworthy ones:
Dillon was the best rated HB (Jones not far behind as 5th) BUT Dillon put forth the highest running only grade at 90.3. Since 2010 only Derrick Henry, Marshawn Lynch and Adrian Peterson have put up a higher grade. QUADFATHER IS A BEAST, PERIOD.
Davante upped his 92 career high grade to 92.7 and set the best mark in qualified WRs.
Campbell was the second best LB graded for the year which is no surprise.
Other top 20 at their spots include Aaron Rodgers (4th), Big Dog (6th), Amos (14th), Rasul (18th), Clark (14th) Jenkins (12th), Gary (6th) and P Smith (13th)
Here is a comprehensive list of much of the roster and their overall PFF grade for the year:
| | | | | | | |
| --- | --- | --- | --- | --- | --- | --- |
| QB | Grade | Position Rank | | CB | Grade | Position Rank |
| Rodgers | 90 | 4th | | Sullivan | 55 | 100th of 121 |
| Love | 36.2 | N/A | | Jaire | 75.1 | N/A |
| | | | | Rasul | 73.5 | 18th of 121 |
| RB | | | | Stokes | 66.3 | 41st of 121 |
| Jones | 82.6 | 5th of 61 | | Yiadom | 31 | N/A |
| Quadfather | 87.4* | 1st of 61 | | King | 70.6 | 26th of 121 |
| Taylor | 79.8 | N/A | | | | |
| | | | | S | | |
| WR | | | | Black | 42.6 | |
| Adams | 92.7* | 1st of 131 | | Amos | 75.9 | 14th of 94 |
| Lazard | 65.5 | 80th of 131 | | Savage | 59.7 | 65th of 94 |
| MVS | 66.1 | 76th of 131 | | | | |
| Cobb | 72.0 | 45th of 131 | | LB | | |
| | | | | Campbell | 84.3* | 2nd of 89 |
| TE | | | | Summers | 26.6 | N/A |
| Tonyan | 54.6 | 64th of 74 | | Burks | 52.6 | N/A |
| Big Dog | 78.8 | 6th of 74 | | McDuffie | 60.0 | N/A |
| Deguara | 58.6 | 51st of 74 | | Barnes | 51.3 | 50th of 89 |
| Davis | 59.0 | N/A | | | | |
| Dafney | 68.1 | N/A | | DL | | |
| | | | | Lancaster | 55.8 | 79th of 125 |
| OL | | | | Keke | 63.4 | 49th of 125 |
| Bakhtiari | 75.2 | N/A | | Clark | 74.9 | 14th of 125 |
| Runyan | 65 | 49th of 84 G | | Lowry | 66.7 | 35th of 125 |
| Myers | 58.3 | N/A | | Slaton | 52.9 | N/A |
| Patrick | 57.6 | 31st of 39 C | | Heflin | 48.0 | N/A |
| Newman | 56.1 | 62nd of 84 G | | | | |
| Turner | 66.2 | 52nd of 84 T | | EDGE | | |
| Yosh | 63.8 | 60th of 84 T | | Rivers | 56.0 | N/A |
| Kelly | 69.5 | 44th of 84 T | | Galeai | 77.1 | N/A |
| Jenkins | 82.3 | 12th of 84 T | | Gary | 89.3 | 6th of 114 |
| | | | | P Smith | 80.8 | 13th of 114 |
| | | | | Z Smith | 58.9 | N/A |
| | | | | Mercilus | 64.3 | 60th of 114 |
| | | | | Ladarius | 62.9 | N/A |
| | | | | Garvin | 60.0 | N/A |
Last edited: