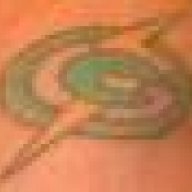 Moderator
Staff member
Moderator
Joined

Mar 7, 2005
Messages

21,963
Reaction score

2,068
Location
Source
McCarthy hoping for an 'A' in chemistry
By Mike Vandermause
PHOENIX — Maybe it's no big deal. Then again, maybe it's a stunning revelation of how the landscape is changing at Green Bay Packers headquarters.
Would you believe quarterback Brett Favre, before last year, never had ventured into the coaches' offices at the renovated Lambeau Field?
Packers coach Mike McCarthy revealed this shocking bit of information Wednesday morning at the NFL owners meeting.
McCarthy was talking about the importance of team chemistry. He wasn't trying to make a big splash. He wasn't trying to prop up his regime in comparison to the previous one in Green Bay. He merely was stating a fact in a casual, almost off-the-cuff manner.
The implications, however, are compelling.
It seems astounding that Favre, the face of the franchise and future Hall of Famer, didn't wander into the third-floor Atrium coaching offices for the first three seasons following the Lambeau renovation. It was only after the arrival of McCarthy he went up there.
"It's amazing," said McCarthy, speaking at the NFC coaches' breakfast with Wisconsin reporters.
"Last year, going through, I've got Brett Favre that comes up in my office. He's walking around, and he goes, 'I've never been up here.' "
The anecdote was part of McCarthy's larger point that he wants to foster an atmosphere in which coaches and players freely interact.
"I want those guys up on that third floor," McCarthy said. "I want the interaction between the coaches and players. You talk about relationship building, you talk about group dynamics. That's a key component of it."
Before the renovation, the coaching offices were located in close proximity to the locker room. McCarthy, who served as the Packers' quarterback coach in 1999, remembers how easy it was to access the players.
"The old facility, you went down a flight of steps and you were right there," he said. "The dynamics of the building, the facility was more interactive. But just because you have to go up an elevator doesn't mean you can't have that."
The renovation placed the new coaching offices on the third floor and a considerable distance from the locker room. There was nothing stopping the coaches from going downstairs and interacting with players in meeting rooms, but the distance apparently discouraged many players from visiting coaches' offices.
McCarthy wants his players to feel free to hang out and talk with the coaches on the third floor.
"What I don't want is that mind-set of when they push No. 3 in the elevator is they go, 'Oh shoot, here I go up to the head coach's office for something negative.' That's part of it."
It would be easy to criticize former coach Mike Sherman, who was heavily involved in the design of the new stadium. Real or not, there's a perception Sherman created too much distance between his staff and the players.
In fairness, Sherman produced five winning records and three division championships during his six-year tenure in Green Bay. To say his methods were wrong would be simplistic. To say McCarthy, in his second year, has the correct approach would be premature.
But certainly it's not a bad thing to open the lines of communication as much as possible.
*** edit for title change*** some people think it was a bait topic, SORRY!!