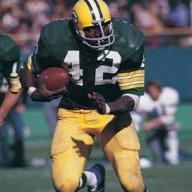 Joined

Jan 21, 2017
Messages

11,340
Reaction score

2,275
We all know that the Packers are fairly cap strapped right now. Even if the cap ceiling is higher than anticipated, they are going to be towards the bottom of the league. What they're willing to do to create space in 2021, and how much space that ends up being, I don't rightly know. But given the stage of Rodgers' career and the overall quality of the team at the moment, I would not be surprised to see them get very creative in order to add some help.
Avoiding the really high end, expensive options, here are a few guys at various positions that I think could be good additions.
RB:
Given the nature of the offense, players with dual skill sets are definitely preferred. The draft will certainly be used here, but they might look to add a cheaper veteran.
Jamaal Williams, GB: Given his experience in the offense and ability in pass pro, he would be my first choice.
Brian Hill, ATL: The better runner in Atlanta last year, played behind Gurley because of $$; not a game breaker, but a solid runner with reliable hands.
Tevin Coleman, SF: Injury has his value at a low point, but had big play ability when healthy. Has experience in the offense.
WR:
The biggest need here is for a YAC/motion weapon who can create with the ball in his hands. The draft seems flush with likely players, so I'm not sure what they might try to do in FA.
Isaiah McKenzie, BUF: Could be a modest upgrade on Ervin/Austin in that role-- would not be a final solution.
Taywan Taylor, TEN: Seemed to be an emerging role player under Petals and then dropped off in 2019.
OL:
So much depends here on what they do with the other moving parts. Linsley could walk or could be back. Wagner will likely be released, but what about Turner? Where do you they see Turner, and how does Runyan fit in?
Alex Mack, ATL: If they decide they need to patch the center position, Mack can still play despite his age and knows this offense.
Chargers iOL: Forrest Lamp and Dan Feeney, both 26, are really gifted players who have struggled mightily on a team that sucks at developing OL; interesting reclamation projects.
DL:
If they indeed intend to run the same offense that we saw in LA last year, then it's notable that big, long powerful defensive linemen accounted for about 1500 defensive snaps last year for the Rams (Brockers, Joseph-Day, Fox). The following are all just guys who fit that particular mold. This is a spot where I think the Packers should absolutely acquire a guy, because all reports indicate that the draft class sucks at this position.
DaQuan Jones, TEN: 6'4" 320, 29 yo, 706 snaps in 2020
Lawrence Guy, NE: 6'4" 315, 31 yo, 503 snaps
Derek Wolfe, BAL: 6'5" 285, 31 yo, 624 snaps
Brent Urban, CHI: 6'7" 300, 30 yo, 370 snaps
Edge:
This defense has typically used a lighter, stand-up edge rusher who can also drop in coverage (Leonard Floyd, Malik Reed most recently). That's the style of edge that the Packers don't currently have.
Tyus Bowser, BAL: Could be the perfect role to unlock his considerable talent.
Haason Red****, ARI: Off-ball has been a disaster-- needs to be an edge.
Leonard Floyd, LA: Tons of experience in the role, but you'd be buying high.
Vic Beasley, LV: Value at an all time low; could be a role that really suits him.
CB:
This is the biggest need on the defense, with a boundary player, a slot, and depth all being needs.
A.J. Bouye, DEN
Troy Hill, LA
Cam Sutton, PIT
Brian Poole, NYJ
I can see needs for a veteran presence at LB, safety depth, and also a Y TE if Lewis walks. But I don't see options that interest me so I'm leaving those positions alone.