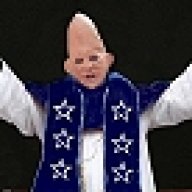 Joined

Feb 4, 2011
Messages

30
Reaction score

15
Location
Hey, Packer fans. It's been ages since I posted here. I wanted to touch base over the outrageous dirty play by Ndamukong Suh when he deliberately attempted to injure Aaron Rodgers. I had some hope for the league when it suspended him, but was both disappointed and disgusted when he won his appeal. I've seen the footage, though I did not see the whole game. One would have to be brain dead to not see that it was a deliberate attempt to injure. I can't believe the arbitrator fell for the absurd excuse that Suh's feet were too cold to be able to feel that he was stepping on another player. Maybe I'll use that excuse if I get pulled over for speeding. "Uh, officer, my feet were too cold. I couldn't feel them on the accelerator." I didn't see the game, but if I understand right, Suh was not kicked out of the game. He should have been. He has a history of dirty play. I remember a previous game against the Packers when he was deliberately kicking a Packers player. Then his so-called "apology" was a joke. He claimed he was just trying to break free. Another absurd thing about the arbitration was the league told him he was not to consider prior incidents. What???? A history of this kind of behavior is highly relevant. It's one thing if an otherwise decent player loses his head one time and does something stupid and then is remorseful. This guy has committed repeated offenses with no remorse.

I'm not just a Cowboy fan. I'm a Nebraska Cornhusker fan also. I used to love Suh when he played for Big Red, but now I'm completely disgusted by him. He's disgraced his home state. I think he should have been suspended for the rest of the playoffs and the first four games of next season. Then when he returned, he should have been told that any other deliberate attempt to injure would mean he's kicked out of the league for good. I would be for this even if the Cowboys weren't playing the Lions in the upcoming playoff game. The dude is bad news, a disgrace to the sport.

I believe my Cowboys will beat the Lions and send them home where they belong. The Lions have another dirty player in Golden Tate, but that's another story.

In any event, good luck to your team in the playoffs, unless, of course, you play the Cowboys, in which case I'll be rooting for my Cowboys to win. I'm still grateful to the Packers for beating the Steelers in the Super Bowl. The Cowboys and the Packers are the only two teams that have done that. Any Steelers Super Bowl loss is a beautiful thing.