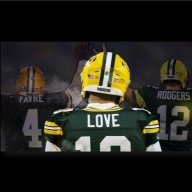 Joined

May 2, 2012
Messages

5,259
Reaction score

481
Ty is that true for the Hags? If GB and Seattle each finish 12-4, who gets the tiebreaker? Thanks.
Honestly the way the article was penned that started this post it seemed Bears game is all that mattered...but IF both Seattle and Green Bay end with 12-4 being their records - Seattle may win the tie breaker if it is just the two of us (them and us).
In the end we just need to win baby, for multiple reasons...
The order of tie breakers are as follows:
Two Clubs
Head-to-head (best won-lost-tied percentage in games between the clubs).
Best won-lost-tied percentage in games played within the division.
Best won-lost-tied percentage in common games.
Best won-lost-tied percentage in games played within the conference.
Strength of victory.
Strength of schedule.
Best combined ranking among conference teams in points scored and points allowed.
Best combined ranking among all teams in points scored and points allowed.
Best net points in common games.
Best net points in all games.
Best net touchdowns in all games.
Coin toss