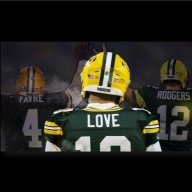 Joined

May 2, 2012
Messages

10,423
Reaction score

2,823
Did a Wide Receiver post of this nature (
HERE
) and let's now tackle another position of need and that is EDGE/OLB.
Zadarius is gone, just not official yet. Preston is unknown, but won't see more than another year or two most likely...Gary is the only sure thing with Garvin growing and Rivers now having to come back from a significant injury after showing promise. Tipa is a small hybrid guy still a year off IMO.
The guys I fully expect we don't need to spend time on as they will go too soon...or IMO should. Aidan Hutchinson, Kayvon Thibodeaux, Jermaine Johnson, David Ojabo and Travon Walker are the Top 5 I expect to not sniff close to our picks....from there Karlaftis is another I expect to be gone but "could be depending how much of a run on CB or WRs we see". After those guys here are some of my favorites...but I'm not going VERY deep or covering all...mainly my Day 1 and 2 guys.
Cameron Thomas - Sand Diego State 6'5' 270lbs Second Round Grade Overall...but Third for Green Bay (explained below)
It isn't that I don't like Cameron Thomas...I personally just don't think you can expect as much out the gate out of him as some of the others you will see go in the draft even after him, and arguably by a good stretch. Part of this is because he played hand down at San Diego State but is too light in our system to do that, and doesn't have the experience or refined skillset to be a stand up OLB just yet IMO. To me he is a perfect fit for a team that employs a lot of 4-3 type concepts and is a project for a team that runs a lot more 3-4 or smaller fronts...with a tremendously high ceiling potential in that system but needs time to grow. This is why while the football player may be justified for a higher pick, I'm not taking him in Green Bay unless in the 3rd round personally...
Logan Hall - Houston 6'6' 275lbs Second Round Grade
This is going to seem completely odd but while he is very much like Thomas above, I like Hall and his projection quicker at the next level. Much of that is his strength and more diverse weapon package he has illustrated along the front of Houston. Is he a stand up OLB presently, no...but he has done stand up attacks some. I see him as a very aggressively and skilled Lowry replacement in our system which is needed as Keke is no longer here. While it may be earlier to draft more of a DE than an OLB such a cog as what Hall could be may make it worth it....granted if some of the guys below are there and our need at OLB is what I project it will be I would give the nod to them over Hall.
**The following four are kinda my realistic "favorites" that are that very end of Day 1 and for sure gone by Day 2 (most likely early 3rd round IMO) type guys....very well could need to trade up in the second to nab a couple of these or hope other positions are chased in the draft dropping these guys down...
Kingsley Enagbare - South Carolina 6'4' 265lbs Late First/Second Round Grade
I love Enagbare, plain and simple. While many would say hearing his name at 28 would be too soon...and I could argue there very well may be more beneficial picks there than him - I would understand it. He is the perfect blend of speed, a first step and hand burst, length and power that is rare for a pass rusher....harnessing that power to setting the edge I think is possible and will be needed more at the next level than ever for him. Say he is here and Preston doesn't leave...the potency of having him provide lively and aggressive pass rush snaps for breathers could blow some people away as I feel in such a role he could be VERY good. I'd love him to slip to our second round pick....but he is a guy you may not be able to wait on like that....similar to my other favorite to me that others might disagree on below....
Boye Mafe - Minnesota 6'4' 265lbs Late First/Second Round Grade
Mafe is a guy that I was firmly thinking top 100 but probably not a round 2 guy.....but the more tape I watch, the senior bowl (in the game had 3 TFL, 2 sacks, and a FF) production he put forth and what could be an impressive combine keeps pushing him further and further up my board and especially within his position group. Yes, I have him rated like Enagbare....yes I know that is high for many, but I believe Boye is more NFL ready than many in this draft just because he is literally a specimen with rare imposing traits. Check this out...this dude is expected to jump north of 40 inches in the combine...expect his RAS to be off the charts.
Arnold Ebiketie - Penn State 6'4' 250lbs Second Round Grade
Speed, twitch and motor - the first three things that jump off watching Ebiketie do his thing on reps. He is clearly a rookie that in passing situations will hold his own out the gate and I have very little doubt of that...but his growth in technique and run defense recognition and edge setting will grow as most OLB draftees have to do a year or two. His speed is reminiscent of Gary, but his strength isn't quite there it appears. Look for his combine to actually control whether he sees the 3rd round or not IMO.
Drake Jackson - USC 6'4' 250lbs Second Round Grade
He is many of the things Ebiketie is with perhaps slightly less twitch/burst but has more strength and can win without sole reliance on speed winning out. He also plays the run better so long as the run game is inside runs or opposite of him. Like a typical rookie when runs are at him, he struggles with technique and fighting through the right path to disrupt those plays...however unlike many prospects run defense is not a glaring issue, and merely needs refinement. So if it came down to choosing Abiketie or him, the rest of my OLB room and even my interior guys on roster are going to go into my decision. IF I need assistance more so in 2022 playing the pass I may go Ebiketie, or if I feel like I want to have a touch more relief in run defense I'm going to go Drake....the upside of both is they very well could be good at both however....these are not roll the dice type guys, they will be good at the next level it is just a matter of where and how soon.
Josh Paschal - Kentucky 6'3' 278lbs Second Round Grade (building) or Third Round Grade (Need More Predictable Floor)...
Versatile weapon along the Kentucky front that had him literally play everywhere...dude even dropped into coverage more than most would have expected. He is a guy that had erratic production, but when he produces it is usually in massive ways....I see him as a high risk/high reward possible type player - which depending on the organizations situation (lot of draft equity and building post Rodgers vs needing to know the commodity more and Rodgers here)
Myjai Sanders - Cincinnati 6'5' 255lbs Third Round Grade
Sanders is a guy I'm very mixed on....one minute I wonder if he is too light of a guy (rumored to have played as low as 230lbs) and unpolished from a smaller school...who didn't exactly light it up either if honest. However, watching his reps one does see immense athleticism and a quickness in stunts and twists that may very well be the swiftest of the group. I just don't know if he ever projects well to be a three down 75% of the snaps type guy in his career...his coverage skills are very evident and could be one reason his sack production dropped in 2021 vs 2020...don't know but wonder if he was asked to do more coverage than year prior.
Sam Williams - 6'3' 268lbs Second Round/Early Third
Yup...I'm higher on Sam than many...but like I've said before I'm drawn to guys that despite maybe being on a team in a TOUGH conference (Ole Miss for sure fits this bill) and yet still PRODUCES for his team is prove they've got what it takes to succeed. Dude put up 12.5 sacks in 2021....one of the top tacklers on the team and threw in 4 FF. This 22 year old was no slouch in 2020 and a solid contributor but the growth in nearly every aspect of his game in 2021 just jumps off the pages and tape. What is impressive to me is a guy that excels when asked to rush the QB, can and did set the edge in run defense very well against some stout SEC competition....however when you see how he gets his pressures and sacks you can understand his ability to do so: Strength. In a position that many rookies are selected that rush the passer using speed, this man can win even on doubles with a mix of strength and foot skills not just the latter.
Some others I like in the draft:
Tyreke Smith - Ohio State 3rd/4th round
Deangelo Malone - Western Kentucky 4th Round
Cade Hall - San Jose State 5th Round
Jeffrey Gunter - Coastal Carolina 4th/5th Round *oddly very strong against the run!