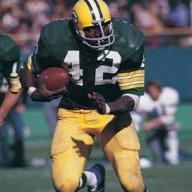 Joined

Jan 21, 2017
Messages

11,242
Reaction score

2,174
At receiver, the Packers currently carry:

-Allen Lazard
-Randall Cobb
-Amari Rodgers

-Rico Gafford

-Juwann Winfree

-Chris Blair

-Malik Taylor

Only the top three guys should be considered strong candidates for the 53 man roster.

So what are the veteran options to bolster this position?

Re-sign:

-Marquez Valdes-Scantling: MVS is certainly no Adams replacement, but he plays an important role in the offense that will need to be replaced even if he doesn't return. Rumor is that he's seeking 7-10M on a one year deal to try and establish more value for a bigger deal. Something on the lower end of that would be fine, though I would be careful not to overpay. Signed with the Chiefs

***

Sign:



Intriguing Options:

-Juju Smith-Schuster: Played as a big slot in Pittsburgh; could be redundant if that's his only role. Intrigued with his ability to do more if he moves beyond the limitations of Big Ben. Signed with the Chiefs

-Will Fuller: Fuller is still only 27 and only a year or so removed from being a high end deep threat option.

-Keelan Cole: Competent boundary receiver who has never played with a high level QB.

High Floor Options:

-Jarvis Landry: Can play slot or the Z on the outside; possession receiver. Wouldn't mind the acquisition but not overly eager.

-Emmanuel Sanders






High Risk/Reward Options:

-Odell Beckham Jr: Proved that he can still play, but he's oft injured and oft dissatisfied. Forgot about late season ACL tear

-Julio Jones: Can still play when healthy, but that's almost never the case. I would pass.

Redundant Options:

-Jamison Crowder: Pure slot; redundant to Cobb and Rodgers. Signed with the Bills

-Cole Beasley



***

Trade:

With a good bit of draft capital in hand (and a QB that some teams might want to take a flier on), it's possible that the Packers could add by way of trade.

-D.K. Metcalf:

Bonafide X receiver who adds a terrifying vertical element to an offense; cheap (4M base salary), entering a contract year, only 24; Hawks unlikely to want to move such a young player.

-Tyler Lockett:

29 year old, versatile, high volume receiver. Base salaries of 3M and 9.7M next two years.

-Robert Woods: 29 year old X receiver who thrives in this type of offense and is an excellent run blocker. Paced for a 1000 yard season last year but tore his ACL in November. Just replaced by Allen Robinson. Traded to the Titans

-Brandin Cooks:

28 years old; capable and versatile with a 12.5M base salary in a contract year. Should be simple to acquire.

-D.J. Moore: The dream option-- Moore is a legit WR1 with versatility. He's still just 24 years old and entering a contract year (11M base salary because of 5th year option). Unlikely to be moved; would only be because he's not in their future plans for whatever reason.* Signed extension with the Panthers

-Michael Thomas:

High risk/reward option who the Saints might try to move if they don't land Deshaun Watson. Not only did he miss all of last year and most of 2020, but he's also a head case.

-DeVante Parker:

Oft injured Z receiver who specializes winning at the catch point. 5.7M base salary this season and next.

-Denzel Mims:

Mims has totally failed to launch in New York; I have no knowledge if that's on him or the offense or both. However, if GB had designs on him in the 2nd round of that 2020 draft, they might try a reclamation project.

-

Darius Slayton:

Slayton is a speedster with big play ability who could replace MVS if he's not brought back.

-Jalen Reagor:

Similar to Mims-- if the Packers liked him coming out, they might try to change his scenery and see if they could unlock him.

-Marvin Jones:

An unexciting possession guy who would nevertheless bring some stability to the position; Jags might be willing to move him after spending up for Kirk and Jones.

*The only reason I listed Moore as even a possibility is what the Panthers have done lately at WR. Last year they drafted Terrace Marshall, then they restructured Robby Anderson and made a longer term commitment to him, and then they signed Rashard Higgins on the open market. So are they setting themselves up to move on from Moore? Probably not, but maybe...
Last edited: