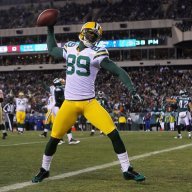 Joined

Sep 30, 2013
Messages

4,162
Reaction score

311
R. E. L. A. X. We're not very good! King is out there because we have no one who's better at the moment. That's both scary and sad.
Well his contract was up at the end of last year, and once SJC comes back I'd bench King for him. He can't be any worse.
We went from having Super Bowl hopes to looking seriously bad. Well, that took all of one game.
And this was Rodgers' worst loss as a starter. Is it just coincidence that this happens after all the drama during the offseason?
I fear this is the consequence of potentially telling or at least not toning down the rumor that this is his last year here. Now, contrary to the tin foil hat wearing nut jobs here I don't believe he is trying to make us lose as he has always hated losing and hates sour tastes in his mouth. But given what he's seen of this s***ty Barry defense and makeshift OL, I'd say we can pretty much bank on him not putting on that superhero cape anymore trying to bail us out all the time.