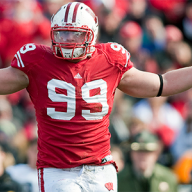 I take offense to that sir.
Joined

Nov 10, 2020
Messages

1,357
Reaction score

772
Rb I agree now they are better.. But I was focused on OL, wr and te.

For me overall 92 as a whole unit was better
I just can't get on board with that. They had one good WR in Sharpe. The others were not good. Brooks somewhat got it figured out later, but then got injured and disappeared. Jackie Harris was a solid TE, but still only had 55 catches for 595 yards. Nothing special at all. I wouldn't give up Musgrave for Harris. I don't know the offensive line well enough in 1992 to do a proper comparison. It was probably better than what Love has. They could use an upgrade there in the next offseason. I've said this in the past. Watson, Doubs, Reed, Wicks, and Musgrave are better skill position players than that 92 team. I'd argue that the defenses are pretty similar as well. Interesting looking back at that team. Now, the 1994 Packers were a very well rounded team and the start of something special. Those mid to late 90's teams were awesome.