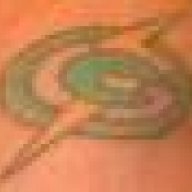 Moderator
Staff member
Moderator
Joined

Mar 7, 2005
Messages

24,414
Reaction score

3,399
Location
What was he thinking?
Bears' Tank Johnson free on bond after raid
December 14, 2006
Jason Arndt
[email protected]
GURNEE--Chicago Bears defensive tackle Tank Johnson is free on bond tonight after he was charged with possessing firearms without a firearms owners identification card.
Johnson's home was raided late Thursday morning by a SWAT team armed with a search warrant.
Police escort a woman and two kids while searching the home of Chicago Bears defensive lineman Tank Johnson in Gurnee Thursday.
(Andre J. Jackson/News-Sun)
He is charged with six misdemeanor counts of possessing weapons without a state Firearm Owners Identification card while 26-year-old Willie Posey, a resident in the player's home, is charged with felony possession of marijuana.
The weapons taken from Johnson's home were three rifles, a military-style AR-15, a .308 Winchester and a 5.65mm; and three handguns, a .44 Magnum, a .50 caliber and a .45 caliber.
"There was a lot of ammunition in the house, some of the weapons I know where loaded," said Gurnee Police Chief Robert Jones.
The misdemeanor counts carry a maximum of a year in jail if Johnson is convicted.
"(The guns) were one of the things listed on the search warrant," said Jones. "We also did not know who would be in the house at the time of the warrant, so the officers took the necessary precautions to ensure the safety of others."
The department, along with a SWAT team from the Northern Illinois Police Alarm System, decided to conduct the raid Thursday when Johnson was at practice at Halas Hall at Conway Park in Lake Forest.
Jones would not reveal what prompted the search, only that the investigation began Nov.4.
"We executed the search warrant as time fell into place and it just happened that he was at practice," Jones said.
Johnson was already on 18 months probation for an assault charge in February. Jones would not comment on the implications it may have on Johnson's case in Gurnee.
Gurnee Police confiscated a half ounce of marijuana allegedly belonging to Posey.
Tom Dillon, the Bears' director of security and safety services, took the third-year defensive lineman from Halas Hall to the Gurnee police station at 3:15 p.m.
Johnson appeared with his Waukegan attorney Thomas Briscoe and was released after posting $100 of his $1,000 bond.
"We were in contact with the state's attorney's office all afternoon, and I surrendered him as soon as we got the word from them," said Briscoe.
Johnson's attorney said the defensive lineman will fight the charges against him in Lake County court.
"He thinks that once all the information comes out, he will be vindicated," Briscoe said. "He says the facts are totally different from what's being portrayed."
The search warrant was executed shortly before 11 Thursday morning with four occupants - including two toddlers - inside the home on the 400 block of North Delany Road.
Neighbors reported Posey was taken out of the house in handcuffs following the raid, while police removed the toddlers.
"No one was harmed during the execution of the warrant, there was no danger to anyone in the area," said Gurnee Police Cmdr. Jay Patrick.
Neighbors spoke to The News-Sun but refused to disclose their names.
A woman who lives in an adjacent home mentioned Johnson as a "normal neighbor who would be seen walking his dogs."
A male neighbor stated Johnson had trouble with his dogs at times, but would generally be willing to seek help from neighbors.
Other neighbors complained Johnson mishandled his firearms at times with one incident of an individual firing a gun in the back yard of the home.
The defensive lineman had six pit bulls locked in cages in his back yard with neighbors reporting the police were called several times due to animal cruelty issues.
"We have had calls in reference to animal issues at Johnson's home in the past," Jones said.
Jones would not indicate if any charges or citations were filed against Johnson at the time of the animal cruelty complaints.
Johnson's neighbors also indicated several of his teammates often frequented the home when the player from Washington State University was out of town.
Bears' coach Lovie Smith says he is disappointed in Johnson's actions.
"Of course we're disappointed that something like this is coming up. We're constantly talking about our players, about doing the right thing, and our players do the right thing the majority of the time," Smith said.
"But sometimes things like this come up," the coach said. "But again, I'm going to wait to see exactly what the charges are before I can talk any more on it."
Gene Chamberlain, Art Peterson, Dan Moran and Jim Newton contributed to this report.