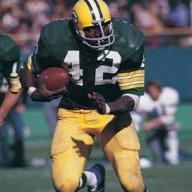 Joined

Jan 21, 2017
Messages

11,549
Reaction score

2,467
Let's set aside this silly Aaron Rodgers discussion and talk about what actually matters:

The potential for awesome or horrible aesthetics depending on the numbers chosen by or for our rookie class.

Eric Stokes, CB, #21: Tooooooo fresh to fail; 10/10

Josh Myers, OC, #71: Carrying over from college... I understand. But a center in the 70's is just a little odd. It's good that he's a big-framed center. Won't look as weird; 4/10

Amari Rodgers, WR, #8: New school number for a new dynamic in the offense! That is CLEAN!!! 11/10

Royce Newman, OL, #70: A respectable number for a guy who is somewhere between being a guard and tackle. We don't know where he belongs; the number doesn't really know either. 7/10

Tedarrell Slaton, iDL, #93: This is a travesty. You got yourself a big ol' hoss who played as heavy as the 360's and you DON'T give him 98 or 99? Not even something in the 70's like they sometimes do with nose tackles??? What are we even doing here?? 2/10

Shemar Jean-Charles, CB, #22: You typically see them give slot corners those wonky DB numbers, like 36 or 41, but not my boy Shemar! 22 is nice. 8/10

Cole Van Lanen, OL, #78: Look at a picture of Cole and look at his face and tell me he's not born to play with a jersey in the 60's. #78?! What is he, the backup tackle of the freaking Cardinals? Put some respect on the man's name! 2/10

Isaiah McDuffie, LB, #58: 58 is a number for a big, burly MIKE who eats guard blocks for breakfast. Darting, slashing, lighter linebackers should not wear it. Disapprove. 3/10

Kylin Hill, RB, #32: Finally some sanity to round out the list. I dig a number in the 30's for a squatty, burly runner. May he bear the number to as much glory as his predecessor, the great Devante Mays. 7/10

Please agree with me or otherwise explain how you're wrong about the way you feel about these numbers.