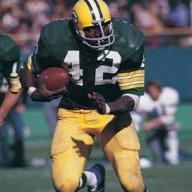 Joined

Jan 21, 2017
Messages

11,627
Reaction score

2,586
Alright folks-- time for some prime off-season content.

We need to grade the rookie jersey numbers. You can comment if you want to, but if it's to disagree with my number takes, don't bother. You're wrong.

First, a grading scale:

Future Retiree: Numbers so good that someday the number is going to be retired.

Certified Fresh: Not quite up to HOF level goodness, but still very strong.

Road Fork: The number's quality will be determined by how well the player does.

Acceptable: Nothing worth noting here.

Try Again!: Hopefully will be a situation where the player changes his number soon.

RIP: This guy ain't making the roster in that number.

***

We are going to go from worst to first.


RIP: These guys aren't making the roster based on jersey number alone

-Danny Davis, WR, #20: Giving a WR a number in the 20's should get you arrested.

-B.J. Baylor, RB AND Raleigh Texada, CB, #34: Nothing wrong with the number here, but one of these guys is going to have to kill the other one.

-Hauati Pututau, iDL, #79: This is CLEARLY an offensive lineman's number and giving it to a DL spells trouble.


Try Again!: For the sake of these young men and their careers, we can all hope they change numbers after camp.

-Zach Tom, OL, #50: What are you, a MIKE linebacker?? Get outta here with your #50...

-Tariq Carpenter, S/LB, #24: Now here is a player who was tailor-made to have a number in the 40's.

-Tre Sterling, S, #45: And here is your #24 player-- 6' 205... swap with Tariq, would ya?


Acceptable:

-Ellis Brooks, LB, #41

-Caliph Brice, LB, #42

-Chauncey Manac, LB, #47

-Rasheed Walker, OT, #63

-Cole Schneider, C, #64

-Jahmir Johnson, OT, #68

-Caleb Jones, OT, #72

-George Moore, G, #77

-Samori Toure, WR, #83

-Romeo Doubs, WR, #87

-Akial Byers, iDL, #98


Road Fork: We all understand that most of the time, a player's number determines how good he is, but here it's the other way around.

-Quay Walker, LB, #7: JaQuavian Jy'Quese Walker is a pioneer, blazing new trails. Will he be a leader that others follow, or get dysentery in the wilderness?

-Tyler Goodson, RB, #39: This is a sick number for a nifty pass catcher, but if he can't achieve that sort of role, it's a camp body number.


Certified Fresh: Legitimate buyable jerseys (if you're a grown man who wears other grown men's jerseys, like you're their girlfriends)

-Kingsley Enagbare, ED, #55: Pass rushers who wear #55 are sacred.

-Devonte Wyatt, iDL, #95: If you're a backfield wrecking 3T, you can wear 90, 93, 95, 96, or 99. That's it.

-Sean Rhyan, OL, #75: This number says "I can play tackle, but I have the girthy manpower to play inside too." Unlike, say, #72, which is a pure OT number.

-Jonathan Ford, iDL, #99: Giving #99 to a big ol' hoss is a tried and true tradition for a reason.


Future Retiree: Enjoy watching this number on the field, because you will never see it again.

-Christian Watson, WR, #9: Ok, c'mon. That is freaking beautiful. It's a number that's both linear and graceful at the same time. It sort of looks like a route. It's the actual number of the route that he will use to decimate that ballerina cornerback that the Bears drafted. Just put the kid in the hall now and save everyone the time.