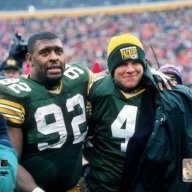 Joined

Oct 15, 2017
Messages

774
Reaction score

90
Had some free time so just for fun I nerded out a bit on what if's after the 2010 Super Bowl. This took me a while to do and checked the contracts closely and do apologize if I have any small details wrong.

2011
Team is mostly the same with a few draft changes.
Trade 1st round (Sherrod pick) for 3rd this year (Justin Houston) and 2nd round next year
Offense- Cut Grant (save 4 mil)+ draft DeMarco Murray late 2nd early 3rd round (trade your 3rd (Alex Green pick) and 4th round (Davon House) picks), don't resign James Jones (save 3 mil), find backup LT and Herb Taylor not on roster. Still draft Cobb 2nd round.
Defense- Give Cullen 3 year extension. Cut Howard Green or Wynn.Draft Justin Houston and don't call up So'oto. Keep Barnett+cut Hawk. Draft Sherman not House.
Rodgers, Murray/Starks, Kuhn, Jennings, Driver, Jordy, Cobb, Finley, Clifton, Lang, Wells, Sitton, Bulaga, Pickett, Jenkins, Raji, Houston (rotate Walden/Zombo too), Barnett, Bishop, Clay, Shields, Tramon, Woodson, Burnett, Peprah (I would say Woodson at safety, but he didn't have full offseason to prepare at that spot)
This roster is very similar to the real life one in 2011 so if I had to guess I figure about the same outcome would have happened as it did in 2011. Jenkins would have helped vs Giants, but I don't know if one guy could have made that big of a difference. Justin Houston wasn't at an elite level yet his rookie year too. For argument sake, I'll just say the same thing happens 15-1 and
loss to Giants in Divisional round
.
2012
Don't sign any of actual free agents. Draft Harrison Smith 1st round (not Nick Perry). Draft Bobby Wagner (Chiefs pick from Sherrod+ Justin Houston trade), Casey Hayward (2nd), TY Hilton (3rd), Mike Daniels (4th), and Malik Jackson(trade something small for early 5th). Sign Kyle Orton or Vince Young. Find backup T like 2011. Find another ILB to team up with Bobby Wagner.
Rodgers, DeMarco, Kuhn, Jennings, Jordy, Cobb, Hilton, Finley, Newhouse(Clifton retired), Lang, Dietrich Smith, Sitton, Barclay (Bulaga hurt), Pickett/Jenkins, Raji, Houston, Wagner (starts with Bishop hurt) Barnett, Clay, Shields, Sherman, Tramon, Woodson(safety), Harrison Smith (Burnett backup).
Improvements at a lot of defensive spots at linebacker and secondary. Justin Houston and Richard Sherman take big steps year 2 and Bobby Wagner and Harrison Smith kick *** from day 1 as rookies. Offense is even better with DeMarco (assumes he plays 10 games like 2012) and not the combination of Cedric Benson, Alex Green, and DeJuan Harris. This team takes a 2 game jump from their 11-5 reality to 13-3. We jump San Fran for the first round bye leaving us and Atlanta withe 13-3 records. Considering the 1 seed that year Atlanta lost all 3 of their games in the division and we only lost to 1 division game (Vikings), we get home-field advantage and coast to the Super Bowl where we we defeat an old Ravens team.
2012 Super Bowl Champs
2013
Bring back no expired FA (Jennings, Barnett) and don't cut Woodson with a year left on his deal. In first round trade up 1 pick to get Badger Wisconsin native Travis Frederick (I know Cowboys were blasted for this pick at time but the familiarity with him gets this deal done), Travis Kelce (2nd), Bahktiari (3rd), Hyde (4th), AJ Bouye (7th).
Rodgers/Kyle Orton/Flynn later after Rodgers injury, DeMarco, Kuhn, Jordy, Cobb, Hilton, Finley, Kelce (fills in when Finley gets career ending injury), Bahktiari, Lang, Frederick, Sitton, Barclay (Bulaga injured again), Pickett/Cullen/Daniels/Malik Jackson/Raji combo, Houston, Wagner, Brad Jones/Urlacher, Clay, Shields, Sherman, Tramon, Hayward, Woodson, Harrison Smith, Burnett.
2013 is the year Rodgers breaks his collarbone vs the Bears so we must assume that will happen again. But this time the backups QBs win a few more games as opposed to Seneca and Scott Tolzein. With a much better roster than the real 2013 I say this team takes a 2.5 game jump and goes 11-5 with DeMarco dominating a lot like Lacy did with Rodgers out. I would say this team would have a better record but the d-line isn't dominant with Pickett/Cullen aging and Daniels/Malik Jackson not fully in their primes yet (Raji was bad that year too).
11-5 record still easily wins a bad NFC North and we play the Saints and not the 49ers in round 1 this time since we jumped over 10-6 Philadelphia in the standings. In real life the Saints squeaked out a win in Phily in this year's Wild Card. However Green Bay is much better than that Phily team and they win easily. The 3 seeded Green Bay then travels to the 2 seeded Carolina where they beat the Panthers by over a TD. Next round is more interesting. Seattle had the #1 seed that year in real life but since we took away Sherman and Wagner from them in previous drafts I'll proclaim the 49ers the 1 seed. Packers play at San Fran and
lose to the 49ers in the NFC Championship Game.
Rodgers isn't quite the same recovering from his collarbone and that 49er defense is lethal. San Fran crushes Denver in Super Bowl that year like Seattle did in real life.
2014
Resign just Starks, Kuhn, Sherman (tough call but considering I don't know about some of recent drafts, just go for it) and Woodson. Cut Shields and Burnett.
Trade up for CJ Mosley in 1st round and Davante Adams in the 2nd round (just trade the rest of the picks for this draft for these guys if you have to)
Rodgers/Kyle Orton or Flynn, DeMarco, Kuhn, Jordy, Cobb, Hilton, Davante, Kelce, Bahktiari, Lang, Frederick, Sitton, Bulaga, Daniels, Guion (has to play for Raji due to his injury), Malik Jackson, Houston, Wagner, Mosley, Clay, Sherman, Tramon, Hayward, Woodson, Harrison Smith, Hyde.
Aaron Rodgers won the MVP in 2014, DeMarco Murry was right behind him in the voting, Kelce, Hilton, Jordy, Cobb, Sitton, Daniels, and Justin Houston have complete breakout seasons. Who in god's name is stoping this team.
19-0 Super Bowl Champs and Brady Bellicheat is left crying in Arizona after the loss.
2015
Release Jordy (I know, tough but tears ACL that August), Tramon, Cobb (I wish he would have taken Oakland's offer now and not ours- he does in this fantasy), Justin Houston (Seems crazy after 22 sack season, but hasn't been worth contract since) and Demarco (Cowboys made right move in end like we would here) and only keep Bulaga for expired contracts. Fitzmagic backup?
Too early to tell on a lot of these draft guys since it's so early in their careers but I'll keep trying. Draft Landon Collins (1st round- I know he's had some struggles but been solid player in short time), David Johnson (2nd round).
Rodgers, David Johnson, Kuhn, Hilton, Davante(he did have bad year this year remember), Kelce, Bahktiari, Lang, Frederick, Sitton, Bulaga, Daniels,Malik Jackson, Raji, (FIND SOMEBODY at other OLB spot/trade)/move one of the safetys up?), Wagner, Mosley, Clay, Sherman, Hayward, Woodson, Hyde, Harrison Smith, Landon Collins.
You can't even really compare this roster to the real 2015 roster. Rodgers has some struggles with Adams but the support from David Johnson, Kelce, and TY Hilton are good enough for the offense.
This team goes 13-3 in regular season. Arizona also goes 13-3 (team we lost to that year in playoffs). I don't care if we have to play there again, we crush them here especially with Carson Palmer's bad thumb. Panthers still finish with home-field going 15-1 in real life. We beat them in a close game and
beat Denver in the Super Bow
l. Their offense was so bad and they had no Malik Jackson to help them as well

.
2016
Woodson retires after 2015. Release Kuhn. Keep Malik Jackson, Hayward.
Draft? Tyreek Hill in 4th or 5th
Rodgers, David Johnson, Hilton, Davante, Tyreek, Kelce, Bahktiari, Lang, Frederick, Sitton (was cut this offseason) or Lane Taylor, Bulaga, Daniels,Malik Jackson, (like last year FIND SOMEBODY/trade)/move a safety up), Wagner, Mosley, Clay, Sherman, Hayward, Hyde, Harrison Smith, Landon Collins.
My analysis is a little more lazy/simplistic. Rodgers looked unstoppable in playoffs and if he had this support he crushes Atlanta and New England. 14-2 and
Super Bowl Champs.
Haven't decided if I'd want to fire McCarthy for Sean McVay after 2016

but this leaves with 4 more Super Bowls and 5 in the Rodgers/McCarthy era going into 2017. I know too little about the draft last year so I decided to just stop. I had fun doing this. Hope you liked it!
Last edited: