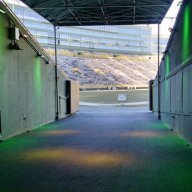 "We're going to relentlessly chase perfection."
Joined

Feb 4, 2015
Messages

1,455
Reaction score

256
Location
Since CM3 chimed in on this, I thought it might be fun to do during the most boring time of the year...

QB: A (Rodgers, DeShone Kizer, Brett Hundley, Tim Boyle) - Pending no injuries, I fully expect Hundley to be traded to the first team that looses their starting QB in pre-season. If we can get ANYTHING for him, thats solid. Tim Boyle to the practice squad. They can't have 4 QBs on a 53 man roster...can they?
RB: B (Aaron Jones, Jamal Williams, Ty Montgomery, Davante Mayes) - 3 guys I love, but really unproven still at this point. Strong depth though. Loose one guy, you still have two solid options.
WR: B+ (Davante Adams, Randall Cobb, Geronimo Allison, Michael Clark, DeAngelo Yancey, Trevor Davis, J'Mon Moore, Valen-Scantling, St. Browneious) From a purely depth perspective, this is a A+, but a ton of young unproven names in this bunch. I expect one of the three rookies to stand out and either Clark/Davis/Yancey. I like the speed of the young, the talent of Adams and the Rodgers-Cobb relationship. I like Allison, but I expected more out of him last year. I keep having nightmares about him fumbling the ball at the end of the Carolina game. That being said, remember Adams in his second year? Hoping Allison has a come back year. If not, its his last year in a packers uniform.
TE: B+ (Graham, Lewis, Kendricks) If you lose Graham, your pretty much back to our TE situation the past 6 years. But the addition of Graham and one of the best blocking TE in the league, this is a massive upgrade to years past.
OL: C- (David Bahkitari, Jason Spriggs, Lane Taylor, Lucas Patrick, Corey Linsley, Justin McCray, Cole Madison, Byron Bell, Kyle Murphy, Bryan Bulaga) I am no professional in evaluating oline talent, but I really only feel comfortable with 3 guys on this list. The most underrated player in the NFL (IMO- David Bahkitari), Corey Linsley, and because he had a decent year last year Lane Taylor. The rest of kind of just crossing my fingers and hoping for the best. Not a good position to be in with #12's life depending on them.

DL: A- (Mo Wilkerson, Kenney Clark, Mike Daniels, Dean Lowry, Montravious Adams, James Looney) What is not to love about this grouping? Not a huge fan of the backups if one of the big boys gets hurt, but that starting line is MEAN. If those three can stay healthy this season, suddenly the Packers have the best 3-4 DL in the league.
OLB: D- (Nick Perry, CM3, Vince Beigel, Chris Odom, Kyler Frackell) This group is bad. The only possible upside is if Vince Beigel becomes a beast. Its likely the Badger homer in me, but seeing what TJ Watt has done in Pitt, I am beginning to think he was the reason Beigel looked so good in his last year. We need some serious help here.
ILB: C+ (Jake Ryan, Blake Martinez, Reggie Gilbert, Oren Burks)- About as average as it can get. But having Blake Martinez in the mix does add on that little + sign. I'm part of the small minority that actually likes Jake Ryan. There is an upside - Oren Burks could be a stud? There is a downside - Oren Burks could be the biggest waste of a 3rd rounder.
CB: (Kevin King, Tramon Williams, Davon House, Josh Jackson, Jaire Alexander, Lenny Pipkins, Josh Hawkins, Demetri Goodson, Quinten Rollins) Am I missing anyone? I expect Hawkins/Goodson/Rollins to be gone. Suddenly a gaping hole, has lots of potential. This one I am going to remain ungraded. Considering it could be one of the best groups in the NFL next year, or yet again the worst...I will grade by week 8.
S: B (Haha, Josh Jones, Evans, Brice) I LOVE Brice, but have no idea how he comes back from the injury. Jones showed potential last year and Jones showed no flashes of no potential. Expected from a rookie, but a massive question mark. Haha is the sole glue to this group. Get the man a contract!