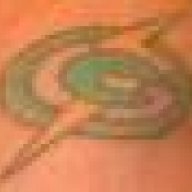 Moderator
Staff member
Moderator
Joined

Mar 7, 2005
Messages

24,268
Reaction score

3,292
Location
I recall someone asking about the Jennings "lateral" to Driver in the Vikings game, and what would have happened if Driver wouldnt have grabbed it..
I believe this is pretty much the same thing..
~~~~~~~~~~~
Updated: Nov. 26, 2006, 7:38 PM ET
Odd, but correct, call brings confusion in S.D. gameESPN.com news services
SAN DIEGO -- A moment of celebration by San Diego receiver Vincent Jackson turned into 10 minutes of confusion in the fourth quarter of the Chargers game with the rival Oakland Raiders.
With the Chargers trailing 14-7 and facing fourth-and-2 from the Raiders 40,
Jackson caught a 13-yard pass from Philip Rivers, rolled to the ground untouched, then stood up and spun the ball forward.
Oakland's Fabian Washington jumped on the ball, believing it was a fumble, and setting off 10 minutes of confusion as the referees sorted it out.
Referee Mike Carey originally signaled Oakland's possession, but then the Chargers were flagged for illegal forward pass. Even with the 5-yard penalty for the illegal pass, the Chargers still had a first down, at the 32.
Four plays later, LaDainian Tomlinson threw a 19-yard touchdown pass to Antonio Gates to tie the game at 14.
While the call was questioned on the field, NFL Supervisor of Officials Mike Pereira confirmed to ESPN's Chris Mortensen that the call was correct -- and not without precedent.
It is illegal to intentionally fumble a ball forward and, by rule, an illegal forward fumble is an incomplete pass. That makes it a dead ball. A 5-yard penalty is then assessed from the spot.

Jackson spinning the ball forward when he was not down by contact constituted an intentional illegal forward fumble and thus an illegal forward pass. Had he spun it backward, it would have been a live fumble.
A similar call was made when Plaxico Burress did the same thing with the Steelers on Oct. 1, 2000.