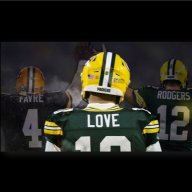 Joined

May 2, 2012
Messages

12,836
Reaction score

4,258
Okay fair warning...slightly longer post than normal...
Chatting with a Packer fan right now about the coming season will almost always circle back to at some point the question of "can this group of wide receivers produce at a high enough level for success?"
It's true, Green Bay, and arguably ANY team for that matter hasn't had to replace a wide receiver quite to the level (and in their prime) like Green Bay will attempt to do so after the Adams departure.
Over the last four seasons Adams has accounted for the following:
You must be logged in to see this image or video!
Essentially in a simplistic way Adams has been 30% of our offense. That is a MASSIVE piece of the offense...but sometimes putting it in perspective of other recognizable names on other teams can assist in knowing if this is normal or not:
You must be logged in to see this image or video!
As you can see many teams across the league have those "centerpiece" type guys that account for about a 1/3 of the teams production in the air...and account for at least 1/4 of the total receptions. However, do you have to have a Top 5 or Top 10 level type guy to be successful? Many folks are already declaring failure for GB due to the fact they don't see a single receiver on the roster that has the chops to deliver WR1 numbers. What does that exactly mean or look like though? What level of production bestows the christening of delivering "WR1 production"? A thousand yards? Twelve Hundred? Double digit TDs?
As for the yards many seem to hover around that 1,000 yard production figure. With that in mind I wondered over the last decade would the Super Bowl Champions of each season indicate a need to have one clear WR1 type level guy that put up 1,000 yards or more. I will be honest the actual figures shocked me:
2021 - Rams - Kupp insane season over 1800 was their WR1...WR2 802yds
2020 - Buccs - Mike Evans just barely over 1,000 at 1,006. Their second highest receiving yards was 840.
2019 - Cheifs - Their top yardage wasn't a WR but a TE at 1,229. Their WR1 put up 860 yards.
2018 - Patriots - Their WR1 put up 850 yards and their WR2 put up 720 yards (a RB was their number 2 actually in receiving yards at 751)
2017 - Eagles - A TE led the team with 824 yards. They had two WRs over 750 (789 & 768 respectively).
2016 - Patriots - WR1 put up 1,106 yards and WR2 was at 680 (a TE was their second at 701).
2015 - Broncos - WR1 put up 1,304yds and WR2 put up 1,135yds
2014 - Patriots - Gronk (TE) led the team at 1,124 but WR1 put up 972 and WR2 put up 953
2013 - Seahwaks - WR1 put up 898 and WR2 put up 778
2012 - Ravens - WR1 put up 921 and WR2 put up 855
2011 - Giants - WR1 put up 1,536 and WR2 put up 1,192
So over the last decade worth of Super Bowls...
Half the time has the winning team had a 1,000 yard regular season wide receiver.
Four times the winning team failed to have ANY player with 1,000 yards receiving.
Four times out of the ten the winning team didn't even have a WR with 900 yards.
Once they didn't even have a WR with 800 yards.
So while yes, many successful teams have that 1,000+ yard type WR1....the fact remains it is not a must have ingredient to be a VERY good team and win the ultimate prize in the modern era of the NFL.
In this league it is proven you have to have a lethal QB and either VERY VERY elite few weapons, or collectively have a lot of weapons playing very good at least.
Truth is having a level of Adams type player is not the only way to achieve the ultimate prize. However, what recent history has taught us is if you don't have that level of guy, you have to put forth a duo of receivers (could include a TE) that produce over 700 and toss in a third player with over 600. So three players producing at least 2,000 yards. The 2021 Rams barely missed this with their third in yards being Higbee just shy of 600...but together they all still produced 2,000.
The Broncos of 2015 also bucked this trend with there top three being 1,304 (Thomas), 1,135 (Sanders) and then 517 (Daniels)...but still over 2,000 in three guys (two in their case actually).
THE ONLY true SB winner over the last decade to not have 2,000 yards receiving out of three players were the 2013 Seahawks...which of course had an insanely good defense and produced over 2,000 yards rushing from it's top three rushers. So in order to conquer what appears to be a requirement they had to be ELITE in two other facets of the game.
All of this to say, Green Bay doesn't have to have a clear and true WR1 to put forth 30% or even 20% of the total receiving yards - it would ease a ton of minds and still fit some recipes for success if we did but it doesn't have to occur. A GB season producing 4,200 yards receiving could easily look like the following:
WR1 - 875 yards
WR2 - 700 yards
WR3 - 500 yards
WR4 - 380 yards
+
TE1 - 500 yards
TE2 - 300 yards
TE3 - 150 yards
+
RB1 - 450 yards
RB2 - 300 yards
and you are already at 4,155 yards receiving.
Whom each of those items wash out to be is irrelevant really, but it is easily within reason to see Watkins or Lazard or even Cobb or if it clicks for Watson or Doubs to make up those top two WRs.
Either side of the discussion you're on, needing a bonafide WR1 to put up like 1,100 yards and double digit TDs or the "by committee" approach will get us to where we need to be...it is perhaps comforting to know BOTH approaches have proven to find the ultimate success in very recent seasons.
Here's to either having a 2,000 yard WR1 and a Super Bowl trophy OR not having a single 600 yard receiver and a Super Bowl trophy....either way we ALL will be SMILING!
Last edited: