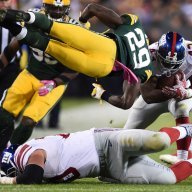 Joined

Mar 13, 2014
Messages

833
Reaction score

189
Location
I just read this article and liked what I read:
http://www.jsonline.com/sports/pack...of-packers-defense-b99478940z1-299473181.html
If any of you have read my previous posts you are probably thinking here he goes chugging the Sam B Kool-Aid again and I can understand that. The other way of looking at this would be to feel a little pumped up that we have a guy like this ready to accept the challenge and take his game and this D to the next level. I have never heard all that much from Sam but this article portrayed him as a well spoken, intelligent, hungry guy that has a bit of a chip on his shoulder with the talent to back up his mouth. I know that everything is settled on the field and mouths don't win titles because if they did Rex Ryan would be out of room on his hands and getting rings fitted for his feet...and man does he love feet! (sorry, too easy) With that being said I do want a player to have the sort of confidence and motivation Sam seems to have as I believe almost all the great ones have a certain level of bravado or cockiness whether they admit it or not. We need someone like this in the middle of the D and this article only furthers my belief that SB can and will be the man to step in and start transforming the D into a positive rather a liability. Believe you me I still want a kid like Kendricks in the draft to play beside Sam and am in no way saying he is a slam dunk to be the answer at MLB. What I am saying is that what I watched on the field last year (in whole) and what I am hearing from him this off-season is only furthering my confidence that my trust in him is not misplaced. It appears that working hard and taking his craft serious won't be an issue and to me that's half the battle so here's to SB backing up his belief in himself on the field and this Defensive unit helping this team get to the ultimate goal next season! G P G!!