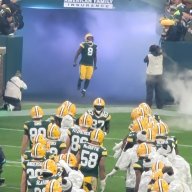 Opinions are like A-holes, we all have one.
Joined

Oct 30, 2012
Messages

30,691
Reaction score

6,902
Location
Better play is a result of coaching. If play hasn't been improved (hasn't for nearly 20 years), then coaching is the issue
Again, I am not disputing that Drayton shouldn't bare the blame for a lot of this, but he isn't the one playing. When you got guys snapping the ball wrong, getting hit by a punt, or missing a block, that is also poor execution by guys that are getting paid a crap load of money to do their jobs. I call these things "unforced errors" and the Packers have had plenty of them. No coach can really scheme up something to protect them from making those mistakes, i.e. they weren't made as a result of a player on the other team making a great play or the coach (Drayton) drawing up the play wrong. Can a coach help them to stop making unforced errors, sure, but they will still exist, even with the greatest coach.
Last edited: