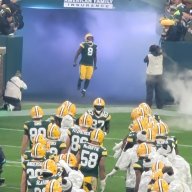 Opinions are like A-holes, we all have one.
Joined

Oct 30, 2012
Messages

25,366
Reaction score

4,073
Location
I wonder if the league will keep these rules going forward as Green Bay is potentially getting 4 starters and several top backups back for the playoffs. Maybe tweak them to run season ending through the season but refresh at the start of the post season.
Personally I like them as is now. Much like MLB's 15, 30, 90 day disabled lists. Or however the DL is counted.
Yes, I have been saying that for months now. This gives a team that gets hit by a lot of injuries a chance to recover some of those players. The 2021 Packers will be both a "shining example of keeping the rules as they are now" or some teams might use the Packers situation as "this isn't fair, the Packers won the SB because of it."
I understand that they don't want teams stock piling guys on the IR, but considering you can't return anyone that was placed on the IR BEFORE the 53 man squad is announced in Sept., it really shouldn't be a big problem. These guys for the most part are getting paid by the team, while they are on IR, so why can't they come back?