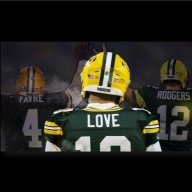 Joined

May 2, 2012
Messages

6,366
Reaction score

1,023
Items he spoke to:
We may never know just how serious we were about Watt, side stepped any true discussion on the topic.
The Franchise Tag is on the table for Aaron Jones.
Believes while restrictions exist and is away of the fiscal restraints, if the right guy is out there they'll be active...but did say a lot of that depends on what happens with their in house guys up.
They want as much playing time as possible for Love this preseason - which makes sense given he never played a single game Pre or Regular last year.
"He's under contract, so we certainly expect him to be back" when talking about Preston Smith. But moments prior he said something touch more cryptic - "Preston's played a lot of really good football for us and certainly we'd like to have him back next year." IMO this says they want to restructure minimum....and discussions are happening.
Appears a Linsley return is just not in the cards.
The type of players needed on the defense doesn't change with Joe Berry hire.
Void of Jamaal Williams name....unless I missed it when making notes.
Acknowledged the struggle and challenge scouting players that opted out in 2020 and just the limited reps by others to observe.
Packers.com has the 15 minute interview.
Last edited: