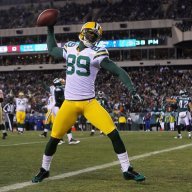 Joined

Sep 30, 2013
Messages

4,162
Reaction score

314
Isn't Zygi Wilf living in New Jersey while owning the Vikings? Owners don't necessarily move the team to where they live. I think the Brewers owner lives out west somewhere.
Wasn't quite trying to imply that. Mostly was just thinking that an owner would want the team in a bigger city to chase bigger revenue and get bigger stadium deals and what not. Unless said owner was someone who wanted to buy the team to keep it in Green Bay.
They came close to relocating to LA around 2000 even with this structure, hence the reason for the renovations
Never remember hearing that. Please enlighten me. How close were they?
Yeah sounds pretty far fetched to me. I only remember reading something in a print edition in which something was discussed In the JS about playing in the Brewers current stadium or something like that. I don't have that particular edition handy anymore though.
But yeah there's zero chances the shareholders and board would have agreed to moving the team to LA.