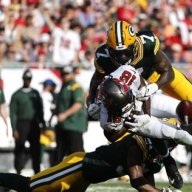 Joined

May 12, 2014
Messages

4,556
Reaction score

830
It doesn't erase it. That's not what i'm trying to get at, but everyone has plays that look horrible. From the best to the worst. Rodgers made horrible passes in the past. Reggie White missed a few tackles and got caught inside a time or 2. Jordy Nelson dropped a dime or 2 wide open down the seam for a sure TD in huge games. Jaire Alexander lets St. Brown and N'Keal Harry toast him on long passes and then seals the comeback victory with an INT a couple weeks ago.

Guys can get beat and stay down, or they move with some fire and make a play.
Had someone else allowed the block and you saw Levitt get up off the ground and recover the ball like he did, I'd say most would call that excellent hustle and a huge play to prevent a potentially game tone setting play. So, while it doesn't negate the bad play, IMO, he made up for it.
He should do his first job first and not have to "fix" it. And every player in the league would get up and try to do what he could.